Russian opposition figure Navalny questioned over fund's activities, HQ searched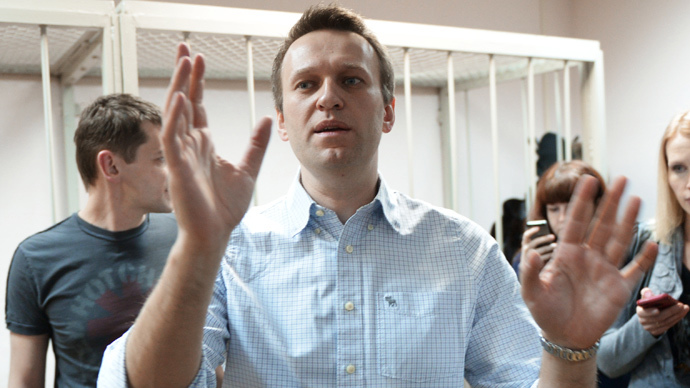 The Russian Investigative Committee has searched the fund of Russian activist and blogger Aleksey Navalny, taking the opposition leader for questioning over suspicions of money laundering by his office staff.
The Investigative Committee has announced that it was "checking information on illegal actions by the leaders and staff of the foundation in spending money from donors", according to Tass news agency.
Prosecutors believe that around 24 million rubles ($400,000) was wired to the foundation in 2013 by 16,000 supporters, but as the investigation says "most of this money was spent on the salaries of staff – 60 percent – and not on the aims that the fund was officially created for."
Navalny himself, whose house arrest situation remains unclear, has been taken for questioning by a group of 12 police officers. They met the blogger outside his apartment building on Friday.
"Today we broke a record. Twelve people were waiting for me at my apartment building's exit," Navalny wrote on Twitter. "The order was to escort. They're taking (me) to the Investigative Committee."
here's what search in Navalny's Corruption fight foundation looks like pic.twitter.com/SlqdIXO8Gt

— Feldman (@EvgenyFeldman) January 16, 2015
Navalny also informed the public via social media of the "raid" to his fund, while his colleagues provided the details.
"Four people are filming on cameras," Lyubov Sobol, the foundation's lawyer said, claiming "none" of them had identified themselves. She said authorities tried to seize office equipment, including telephones, computers and flash cards.
Moscow's police force meanwhile refuted Navalny office staff's allegations that an illegal search and questioning had taken place, telling Russian news outlets that the officers had a legal right to "carry out investigative work". Navalny in the meantime has refused to answer the investigation's questions, according to his lawyer Olga Mikhailova.
READ MORE: Navalny guilty of embezzlement, gets 3.5yrs suspended sentence
Navalny was given a three and a half year suspended sentence on December 30, on charges of embezzling 30 million rubles ($480,000) from two firms, including French cosmetics company Yves Rocher. In his defense, the activist repeatedly claimed that accusations against him were false and that he is being prosecuted as a "revenge" for his "anti-corruption activism."
According to Russia's Federal Penitentiary Service (FSIN), he remains under house arrest. After Navalny left his apartment on several occasions and was taken back by FSIN members, the service filed at least two complaints to the court. The court however refused to review them since, as it said, after a sentence is pronounced pre-trial restrictions are no longer applied.
You can share this story on social media: