'US military hardware will cause more bloodshed in Ukraine' – Russian official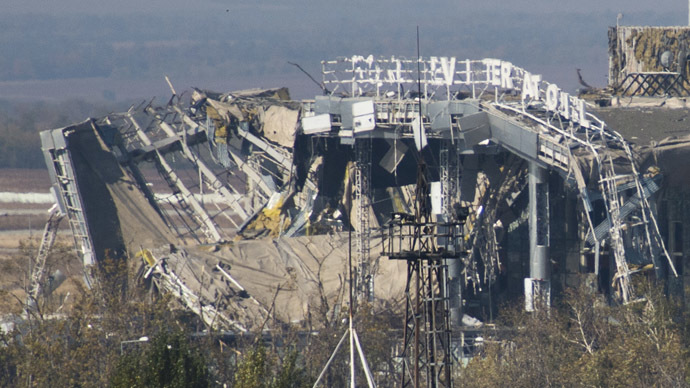 The possible relocation of US hardware from Afghanistan to Ukraine suggested by President Obama will only lead to more casualties, a senior Russian lawmaker has stated.
"Russia cannot be content with such plans as they would increase the tensions near our borders and also inevitably cause more casualties in Donbass," the head of the Upper House Committee for Foreign Relations, Konstantin Kosachev, told reporters on Monday.
The senator added that such a step by the United States would be an open interference into the conflict, which would definitely lead to further aggravation both in Russian-American relations and within the security situation in Eastern Europe as a whole.
Kosachev also gave a critical appraisal to the allied mission in Afghanistan that is being wrapped up this year. The Russian lawmaker called the result of Western military presence in the country disappointing, noting that the military mission did not solve any problems in the region – but rather created a few new ones.
Earlier on Monday, a Russian Lower House MP also criticized Washington's decision to transfer military hardware from Afghanistan to Ukraine, promising reciprocal actions from Russia. A member of the State Duma Committee for Defense and the chairman of the Russian Union of Afghanistan War Veterans, Frants Klintsevich (United Russia party) told reporters that he would use all his powers to initiate an official State Duma address to President Putin, seeking to start the supplies of Russian military hardware to the Lugansk and Donetsk republics.
In early December, MP Mikhail Yemelyanov of the leftist Fair Russia party said the US Senate's decision to arm the Kiev regime should prompt "adequate measures" from Russia, such as deploying military force on Ukrainian territory before the threat becomes too high.
Yemelyanov also noted that in his opinion, the US Senate's decision to arm Ukraine has revealed that Washington is not interested in the de-escalation of the Ukrainian conflict. "In a few years, Ukraine will turn into a poor and hungry country with an anti-Russian government that will teach its population to hate Russia. They will be armed to the teeth, and Ukraine and US reluctance to recognize the Russian Federation within its current borders would always provoke conflicts," the MP noted.
On March 1 2014, the Upper House of the Russian Parliament – the Federation Council – approved a resolution allowing the president to use military force on the territory of Ukraine "until the normalization of the social and political situation in that country." The resolution was adopted in accordance with the first part of Article 102 of the Constitution of the Russian Federation.
However, on June 25, the Federation Council voted to repeal the legislation following a request from Vladimir Putin. The Russian president instigated the move from a desire to alleviate tensions in view of the three-party talks on a peaceful settlement in the east and southeast of Ukraine.