Russian public names Putin 'Man of the Year' – fresh poll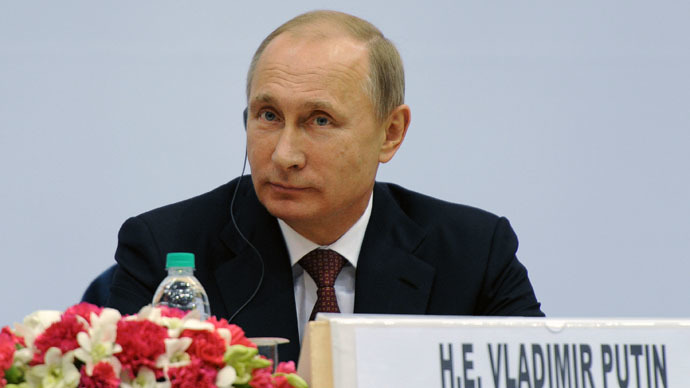 An overwhelming majority of Russians named President Vladimir Putin 'Man of the Year' when pollsters asked them to choose from among serving Russian politicians.
The latest research conducted by an independent Russian pollster Public Opinion Foundation (FOM) showed that 68 percent of Russian citizens consider Putin worthy of the title.
Vladimir Zhirinovsky, the flamboyant leader of the populist nationalist party LDPR was in second place with 4 percent of supporters. A further 3 percent of Russians favored Foreign Minister Sergey Lavrov and Prime Minister Dmitry Medvedev was in fourth place with 2 percent of votes.
Defense Minister Sergey Shoigu and the leader of Russian Communists Gennady Zyuganov scored 1 percent each and the politicians who got less than 1 percent of supporters scored a combined 4 percent.
Four percent of the respondents insisted that not a single figure in Russia deserved to be called 'Man of the Year', while 17 percent said they found the question too difficult to answer.
The public affirmation about Vladimir Putin's major role in the life of the country looks even more decisive considering researchers within the same poll asked who among scientists and artists was worthy of the mantle. Some 75 percent of Russians said they had no answer to this question.
The results of the FOM research show another rise in Vladimir Putin's approval rating, which saw record highs this year.
In late October, influential independent pollster Levada released a research according to which 49 percent of Russians said they were ready to vote for Putin were a presidential election to be held the next weekend. In August this share was 57 percent – the highest in history.However, Levada's October research also showed that the overwhelming majority of respondents denied that the president's popularity was turning into a cult of personality. Only 19 percent said they had noticed features resembling a cult, compared to 27 percent a year ago.
In early December, Putin's press secretary Dmitry Peskov commented on the surge in the president's popularity in an interview with RT. Peskov said that in his opinion Putin did not need any publicity, bad or good, and the people's love for Putin was a manifestation of their love for Russia.
You can share this story on social media: