Surge in religious extremism must be blamed on West – Kremlin official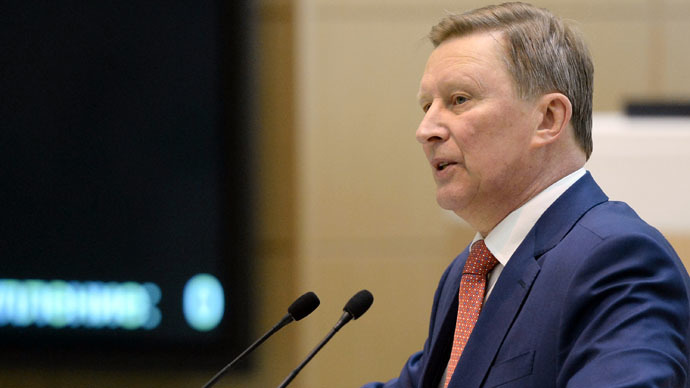 The current outburst of religious extremism is a direct consequence of the short-sighted policies of Western nations, the head of Russian Presidential Administration says.
"You all know about the serious processes that are taking place in the Middle East and North Africa, where the ethnic and confessional balance is now being blatantly destroyed," Sergey Ivanov stated on Thursday.
"First of all we must talk about the sharp surge of religious extremism that is largely a consequence of the, diplomatically speaking, shortsighted policy of a number of Western countries," he told the Presidential Council for Interaction with Religious Organizations.
"Everyone sees this very clearly," he noted.
Ivanov added that the Islamic State (IS, formerly ISIS) was the most vivid example of the disastrous results yielded by the West's policies in the region.
The official said various religious minorities in the East – Alawites, Druze, Yazidis and Christians were all in a very vulnerable situation. "Hundreds if not thousands of Christian churches and other temples have been destroyed in Syria and Iraq, and hundreds of thousands of people have had to flee from their traditional dwelling places," Ivanov told the council. He gave examples of members of the Christian community in Mosul who had to hide from IS radicals in Kurdistan, saying that those who remained at home are under constant threat of death. He added that people who follow traditional Islam were also suffering from repression and threats from Islamic State.
In the same speech the Kremlin official said that the ongoing crisis in Ukraine caused many physical attacks on Russian Orthodox churches and priests, on which the Kiev authorities were turning a blind eye.
"And I would like to emphasize that this is happening in the center of educated and civilized Europe," Ivanov added.
"The illegal takeover of power that happened in Ukraine in February this year led to a very serious outburst of radicalism and caused mass violations of law, religious hatred and violence against believers," he noted.
According to Ivanov, such a situation would have been impossible if the opposing parties in Ukraine from the very beginning solved their disagreements through dialogue and without external interference.
"Russia has always supported this approach and it will continue to do so," he added.
In early November, a former general of Russian military intelligence service suggested in a press interview that the leaders of the IS could be under the direct influence of NATO and certain Western states.
"There are some grounds to suspect that American and British special services could support the Islamic extremists in order to target the territorial integrity of the Russian Federation," RIA Novosti quoted Nikolay Pushkaryov as saying.
"The top of these movements could be under the influence of NATO agents," he added.