Putin orders fingerprinting of all foreigners arriving in Russia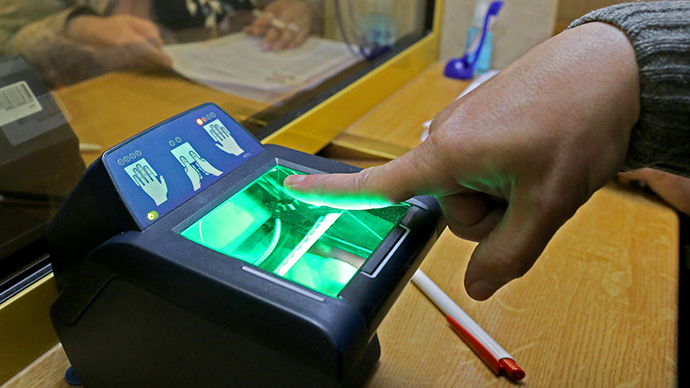 Russia is to begin biometric registration of all foreign citizens and persons without citizenship who receive entry visas, according to a new order signed by President Putin.
The document published on the official government website says that starting on December 10 all people travelling to Russia on a visa should be fingerprinted. The task will be undertaken by the Foreign Ministry and the Federal Security Service.
The fingerprinting is to improve the effectiveness of law enforcement, including the prevention of illegal migration and barring suspected terrorists from entering the country. Russian diplomats are instructed to inform foreign countries about the new rules before December 5.
The presidential order will remain in force until corresponding amendments to federal laws come into force.
The proposal was put forward by the Foreign Ministry in reply to the planned introduction of universal fingerprinting of Russian wishing to enter the EU in 2015.
In July this year lawmakers from the leftist party Fair Russia suggested amending the Federal Law on the Legal Status of Foreign Citizens in the Russian Federation with a paragraph obliging all foreigners to be photographed and fingerprinted as they cross the Russian border. The sponsors of the bill said it would add to the greater security of Russian citizens and guests alike, and also help the Interior Ministry in identifying people and preventing and solving crime. Another benefit would the prevention of people who are banned from entering Russian territory crossing the border using new fake documents or other personal details, they added.
Several years ago the head of Russia's top federal law enforcement body - the Investigative Committee – suggested a similar idea, but it was not implemented because putting the necessary equipment on all border crossings turned out to be too expensive.
According to the latest report by the Federal Migration Service, over 17 million foreigners visited Russia in 2013. In the same year about 2.5 million foreigners were caught breaking the visa regime, and 190,000 were deported and banned from re-entering the country.
You can share this story on social media: