'Blackmail': EU trying to force Serbia into Russia sanctions club, says senior MP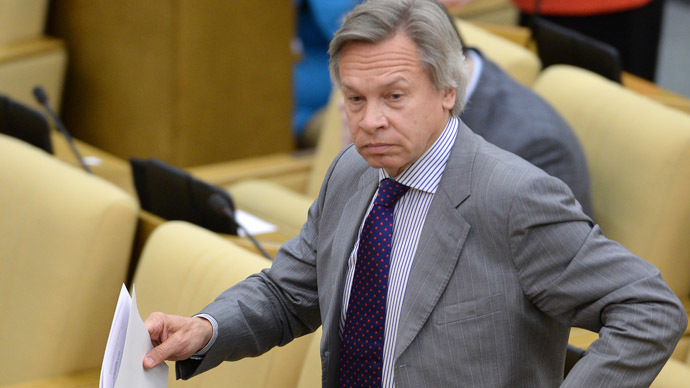 The EU's attempts to coerce Serbia into joining anti-Russian sanctions are nothing but blackmail, says the head of the State Duma Foreign Affairs Committee.
"Presently the European Union is trying to force Serbia, which is not an EU member, to join their sanctions program. They are practically blackmailing Serbia: either it joins the sanctions against Russia or [the bloc] won't see it as a country with a chance of joining the EU," MP Aleksey Pushkov (United Russia) told reporters at a Thursday press conference in Moscow.
"The problem for Serbia is that in any case it has no prospects for joining the EU anytime soon. Even if they join the anti-Russian sanctions now, they would simply succumb to blackmailers and no one would accept them in the EU in one year for doing this," he added.
The comments came after EU's Enlargement Commissioner Johannes Hahn said that Serbia would have to join EU sanctions against Moscow if it wants to be part of the European Union.
"Serbia has taken a legislative commitment within the EU accession negotiations to bring its positions in line with those of the EU. Harmonization includes the tough issues as well, like the tough issue of sanctions against Russia. We are expecting of Serbia to hold on to these commitments," RIA Novosti quoted Hahn as saying.
This was a radical change of position as just days earlier, after a meeting with Serbian Foreign Minister Ivica Dacic, Hahn assured the press that the EU was not asking Serbia to impose sanctions against Russia. Back then, the commissioner acknowledged that such decisions were a sovereign matter of the Serbian government and the sanctions and Serbian membership in the EU were in no way connected.
Serbian Ambassador to Moscow Slavenko Terzić told Interfax on Thursday that for the moment his country had no intention of joining the sanctions, but in future the question could be raised at the Serbia-EU talks. "It is possible that Serbia would gradually begin to coordinate its position on various international issues with the one of the EU, but today our country is not ready to join the anti-Russian sanctions for many reasons, including because of the fact that Serbia and Russia are strategic allies," the diplomat noted.