Russian political parties banned from making deals with foreigners or 'agents'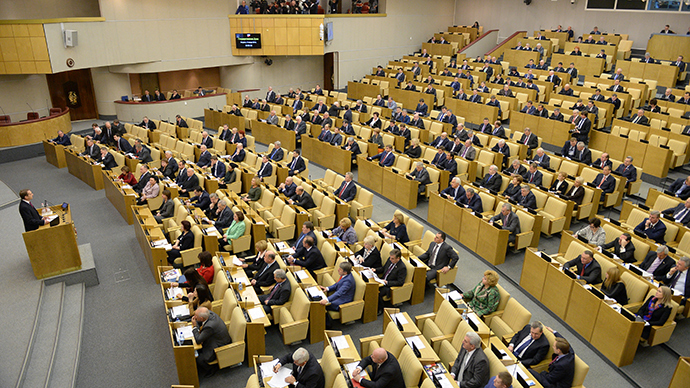 The Russian Lower House has passed a set of amendments that make it illegal for political parties to receive sponsorship or enter any business deals with NGOs with "foreign agent" status.
The new rules have been drafted by the head of the State Duma Committee for Constitutional Law Vladimir Pligin from the parliamentary majority party United Russia. Once the amendments are signed into law it would not be legally possible for a political party or its regional affiliate to receive money or enter into deals with foreign citizens, international organizations, and Russian NGOs that had received the status of a "foreign agent." A foreign agent is defined as a group that within the latest year has received money or property from foreign citizens or groups as well as organizations which are more than 30 percent foreign-owned.
There is also a 10-fold increase in the maximum fines breaking election campaign financing rules, bringing the new maximum fine to 1 million rubles or about $23,000. The fines for buying votes during elections increased to 500,000 rubles or about $11,500. The bill also introduces regulations concerning the obligatory annual audit of political parties. Organizations that fail to comply could have to pay fines of up to 1 million rubles.
The new increased responsibility comes at the same time as Russia doubled state financing of political parties from 2015. Now any political party that gets more than 3% of votes in federal parliamentary polls would receive 110 rubles for every vote cast in their favor. Seven billion rubles or $155 million has been set aside for funding political parties.
Russia introduced the Law on Foreign Agents in late 2012. It forces all NGOs who receive funding from abroad, and that are even partially engaged in political activities, to register as foreign agents under threat of substantial fines.
The act caused a lot of complaints from activists and human rights officials who accused it of labeling the groups and warned of a possible sharp cut in foreign funding. Russian officials, including President Putin, have repeatedly emphasized that the law contained no sanctions against foreign-funded organizations and only sought to better inform the Russian public, and especially voters, of the possible motives of various participants in the political process.
In July this year the Russian Justice Ministry proposed banning all civil servants from participating in NGOs which have been recognized as foreign agents, and on traveling abroad at the expense of any foreign organization. The document was published on the official information website for public discussion and has not yet been drafted for parliament.
You can share this story on social media: