First ever 'foreign agent' NGO registered in Russia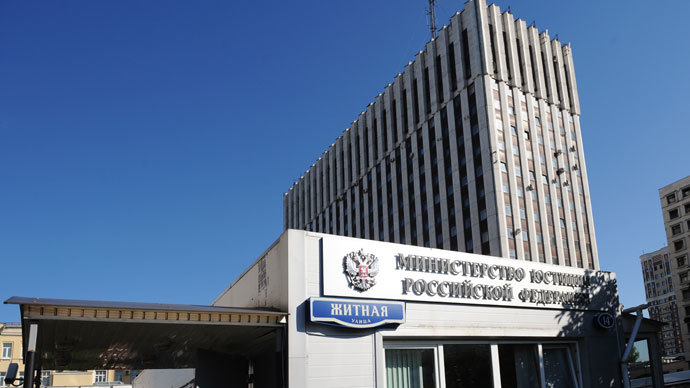 Russian Justice Ministry has registered the first NGO as a foreign agent while seven groups are fighting in court seeking to prove that prosecutors' probes into their activities were illegal.
The organization called "Supporting Competition in The CIS" was put on the list of foreign agent NGOs on Justice Ministry's website on Friday. The organization describes itself as a union of lawyers and economists who specialize in development of competition as well as organizations that pursue the same objective.
The group was set up this month and its founding convention took place on June 17 in Bishkek, Kyrgyzstan.
In July last year President Putin signed into force a set of amendments to the Law on Non-Commercial Organizations ordering all groups that receive funding from abroad and that are engaged in political activities to register as 'foreign agents'. Failure to do so is punishable by fines.
Opponents of the bill, both in Russia and abroad, claimed that labeling NGOs as foreign agents would threaten their existence in Russia, but the authorities countered that foreign agents had equal rights with other Russian NGOs and the sole task of the new rule was to inform Russian voters about the possible motives of various participants of the political process.
In March this year, prosecutors and the Justice Ministry launched a major inspection all over the country checking if the new law was duly observed. The inspection caused another outcry from activists and also some foreign governments, and resulted in uncovering several cases in which the law was violated.
One group – the election-monitoring association Golos (Voice) had its registration suspended for six months following repeated refusal to register as a foreign agent. The NGO said that it had only received foreign sponsorship before the law on foreign agents came into force and eventually said it would dissolve and re-register as a new organization with a clean history.
However, Russian Justice Minister Aleksandr Konovalov noted in press comments that the mass inspection was caused by the changes in federal legislation and also by that fact that no checks had been made at all for several years. The minister said that the checks would continue and that they would be regular, but on a much smaller scale.
Seven groups, including Russian branches of Amnesty International, Human Rights Watch and Transparency International, filed complaints to court saying that the prosecutors' actions were illegal. On Friday, the judge in a district court in Moscow adjourned the hearings into the first such case – started by veteran Russian Human Rights NGO Memorial – after prosecutors asked for more time to prepare their case.
Earlier the official spokesperson of the Prosecutor General's Office told the press that the nationwide inspections were in her agency's year plan and added that the objective of the checks was not only to punish those who fail to observe the law, but also to detect flaws in the law itself and suggest changes.