Communists seek Jewish denouncement of oligarch over E. Ukraine raid sponsorship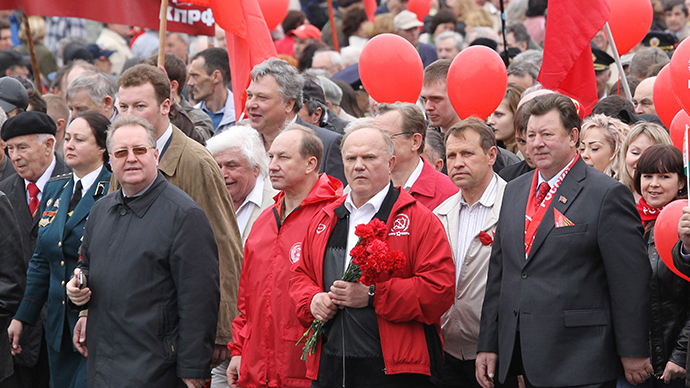 Communist MPs have asked the leaders of Russian and international Jewish organizations to publicly assess the actions of Igor Kolomoysky – known for sponsoring punitive operations in Donetsk and Lugansk Regions.
Lawmakers Valery Rashkin and Sergey Obukhov, who sit on the State Duma Committees for Ethnic Affairs, and Public and Religious Groups, addressed their requests to the chair of the Rabbinical Council of the World Congress of Russian-Speaking Jewry, Berl Lazar, and the head of the Russian Congress of Jewish Communities, Adolf Shayevich.
The MPs noted in their letter that current tragic events in southeastern Ukraine are caused to a large extent by spreading extreme ethnic hatred, and they want Jewish groups to call for active opposition to people who actively promote Nazi ideas in Russia's southern neighbor.
"Nazi emblems, portraits of [extreme Ukrainian nationalists] Stepan Bandera and Roman Shukhevich decorate mass crimes against ethnic Russians, Jews and other non-titular ethnic groups in Ukraine. In this situation the actions of the head of the United Jewish Community of Ukraine, Igor Kolomoysky, look especially cynical as this man sponsors ultra-nationalist armed groups for his own political purposes," reads an abstract from the letter published by popular Russian daily Izvestia.
"Igor Kolomoysky's actions contribute to ethnic and race hate and cause people to commit hate crimes not only in Ukraine, but also in Russia," the Communists claim.
The authors also remind their correspondents that Russia's top federal law enforcement agency, the Investigative Committee, suspects Kolomoysky of personal participation in financing punitive squads, like the Dnepr and Azov volunteer units. Russia has already initiated criminal cases into these actions and charged the Ukrainian oligarch with murder, kidnapping, using banned methods of warfare and obstructing the work of journalists.
In comments to Izvestia Valery Rashkin noted that his party had always promoted friendship between peoples and considered it of primary importance to maintain the inter-ethnic accord in Russia and in neighboring countries.
"We are convinced that under current conditions of de-facto Nazification of modern Ukraine, the Jewish public and religious groups must resolutely stand against this destructive process. Jews were among the peoples who suffered most at the hands of Nazis and their henchmen. We are also sure that Russian Jews must distance themselves from Kolomoysky and make him understand that his crimes are denounced by his own people," Rashkin said.
The initiative has caused a mixed reaction among Russian parliamentarians. MP Viktor Vodolatsky (United Russia) said that letters and petitions would not change anything, adding that the Ukrainian president must prove his legitimacy by declaring Kolomoysky a war criminal.
MP Evgeny Fyodorov (United Russia) approved of the Communists' move, but added that Russia could do more by altering its own laws and allowing Russian courts to pass verdicts similar to those of the Nuremberg Trial.
You can share this story on social media: