Lawmaker asks Nobel Committee to strip Obama of Peace Prize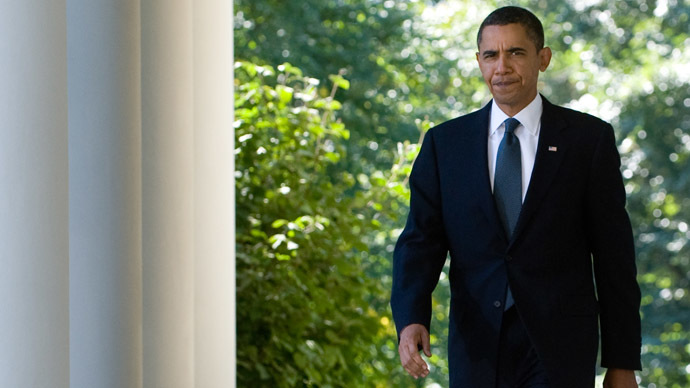 A representative of the populist LDPR nationalist party claims in an official letter that the US President should be blamed for thousands of innocent people's deaths and therefore cannot keep his 2009 Nobel Peace Prize.
"More and more international experts are calling Obama's presidency dark times. The reason for that is the brutal policy that he is conducting all over the world, like Napoleon or Hitler had done before. But I want to warn Obama so that he pays more attention to history and understands that he can end up like Hitler," MP Roman Khudyakov said in an interview with Izvestia daily.
The politician added that under Obama the United States participated in the "dirty war" in the Middle East, financed the armed conflict in Ukraine and violated international law by torturing suspected terrorists. All this makes the US President complicit in the violent deaths of several thousand innocent civilians and such a person cannot remain the holder of the Nobel Peace Prize, Khudyakov said.
In addition, the lawmaker suggested to pass the Peace Prize taken from Obama to Russian President Vladimir Putin. "He stopped the war in Iran, in Syria and he is still saving a lot of people from major bloodshed. He is a vivid example of a politician who preserves peace and love in the world."
Khudyakov is not the first Russian politician who has suggested stripping the US President of his 2009 Nobel Peace Prize. In August this year, the head of the LDPR party, Vladimir Zhirinovsky, wrote in a public address that Obama was not worthy of the honor.
Zhirinovsky stated that the fact that the Peace Prize was given to Obama in 2009 caused bewilderment from the very beginning – the award went to the man who had occupied his post for less than a year and had not claimed any real achievements, but instead started wars in the Mideast, Afghanistan and Ukraine. The Russian politician added that he himself had worked in the Peace Committee and previously the whole world had been proud of Nobel laureates. He noted that giving the Peace Prize to Obama "had done huge damage" but the mistake could still be corrected.
In March, senator, Lyudmila Bokova, asked the Nobel Committee to annul Obama's peace prize claiming that the double standard policy of the US administration helped develop the political crisis in Ukraine.
In November last year, two Russian military-related NGOs, Officers of Russia and Soldiers' Mothers, addressed the Nobel Committee with a request to evaluate Obama's inhumane statements about drone warfare – the US President had reportedly told his aides that he was "really good at killing people" while evaluating drone strike results.
So far, all calls from Russian activists and politicians have gone unanswered. It should be noted, however, that the statutes of the Nobel Foundation forbid the revoking of prizes as well as any appeals against Nobel Committee decisions.
You can share this story on social media: