'Retract Peace Prize': Russian NGOs blast Obama over 'killing people' confession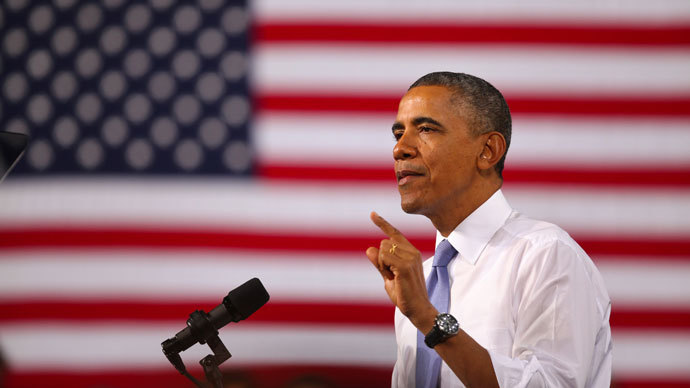 Two major military-related groups, Officers of Russia and Soldiers' Mothers, have addressed the Nobel Committee with a request to evaluate the inhumane statements made by the US president about drone warfare.
"I would like to bring to your attention that [we] were surprised and outraged by the statement made by the Nobel Prize laureate and US President Barack Obama quoted in the book 'Double Down' by Mark Halperin and John Heilemann," the head of the Officers of Russia NGO, Anton Tsvetkov, wrote in the letter to the committee, Infox.ru quoted.
"While discussing the use of drones in counter-terrorist operations in a closed conference with his aides, Barack Obama cynically noted he was 'very good at killing people.' In connection with this we ask you to give an official legal and moral assessment of Barack Obama's words concerning their compatibility with the high title of the Nobel Peace Prize laureate," he added.
Tsvetkov told reporters at a press conference in Moscow that military professionals in his organization were strongly against the use of drone aircraft in combat as this weapon often causes casualties among civilians. He claims the Officers of Russia possess information proving that Obama personally sanctioned the combat use of drones during missions in Pakistan, Yemen, Afghanistan, Somalia and other countries.
The chairwoman of the Soldiers' Mothers Committee, Flora Salikhovskaya, said  that her group supports this address, adding that solving all problems through military force has become Obama's trademark.
"As a mother and a Human Rights advocate, I cannot understand his drive. I cannot understand the statement by the president of a nation that he can kill people. Obama must either apologize before everybody for his statement or give the [Peace] prize back and admit that he has not yet grown up to bear this high title," she noted.
A high-placed member of Officers of Russia, Aleksandr Mikhailov, noted that in Russia even military snipers never boasted about their proficiency in killing.
"They usually say that they work with targets. One should never brag of such things!" Mikhailov told a news conference. 
Both NGO leaders said they hope the Nobel Committee members will heed their letter. They added that many pundits had noted that the Peace Prize handed to Obama was a sort of 'advance' given in return for promises and press statements made during the previous election campaign. But in reality the deeds of the US leader contradict his earlier rhetoric and this means that the 'advance' can be rescinded, the activists underlined.
Since taking office in 2008, and winning the Peace Prize in 2009, Obama has greatly expanded the use of drones and targeted killings in foreign nations. The Bureau of Investigative Journalism in London earlier reported that he had authorized 326 strikes in Pakistan alone. It also estimates that, since George W. Bush took office for his second term in 2004, the strikes have killed anywhere between 2,500 and 3,600 individuals, and that between 416 and 948 of those individuals were civilians.
The White House claims the number of civilians killed by drones is much lower than that, but it has never released its own figure. Obama himself justified the drone program earlier this year, saying that it prevented the deaths of even more civilians at the hands of terrorists.
The official position of the US side is that all 'military-age males' within a strike zone should be considered combatants and treated accordingly.

You can share this story on social media: