Rights activists call for tougher punishment for bribery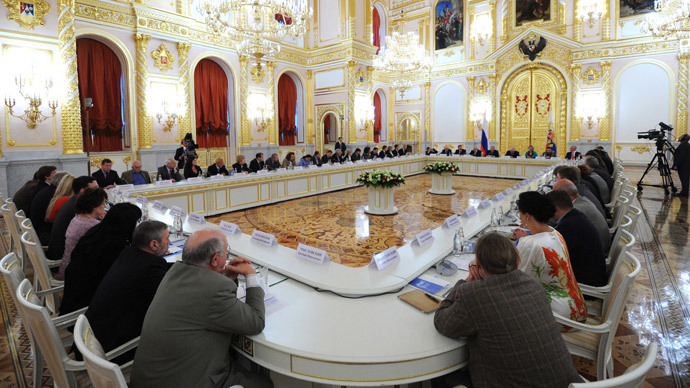 The leading Russian human rights body wants the maximum prison term for corruption to be more than doubled in a bid to force those convicted to compensate for the damage to the national economy.
The head of the National Anti-Corruption Committee Kirill Kabanov presented his suggestion to Vladimir Putin on Tuesday, during the President's meeting with the Council for Human Rights. Putin said that he was not opposed to the anti-corruption initiative. The President also promised to order his administration to take part in a major anti-corruption inspection that will be launched all over the country in the nearest future.
Kabanov, who sits in this council, told reporters before the meeting that rights advocates considered the current maximum sentence of eight years too soft.
"Such convicts can be released on probation after spending just 4 years behind bars, and they still have billions. Their fortunes ensure that they do time as if they were at a health resort. I know a lot of oligarchs who are like this. We must change this situation with regard to cases where convicts are ready for plea deals," the activist said.
According to Kabanov, the situation can be improved after bribe-takers and other participants in corruption crimes start getting sentences of 20 years without the possibility of parole or amnesty. The terms, however, can be cut drastically if convicts compensate for the damage caused to the state.
Rights advocates want to introduce personal responsibility for civil servants who display a careless attitude to corruption. Kabanov attacked most federal ministries for their alleged failure to prepare and publish anti-corruption plans in time, as ordered by the national plan, and added that even the plans that had made it to the official websites looked formal and barely feasible.
Kabanov said that regional officials were especially reluctant to join the latest anti-corruption initiatives and assured reporters that President Putin would be informed. In particular, he accused regional civil servants of violating the law that forbids Russian officials holding accounts or securities in foreign banks.
Vladimir Putin set the anti-corruption as one of the main national priorities in his latest plans and public speeches. In 2013 Putin criticized the softening of anti-corruption laws in 2011 and ordered various federal ministries to draft suggestions and plans of tackling the situation.
In spring 2014 the Russian Prosecutor General Yury Chaika proposed a bill making a prison term the only punishment for anyone convicted of corruption, saying that compensatory punishment or fines were not acting as a deterrent – one of the key points that provide the rule of law.
In 2013 Russian law enforcers investigated about 30,000 cases of corruption. In 2012 it was 20,000, and investigators said that about 8,000 of those were forwarded to the courts.
You can share this story on social media: