Euronews faces ban on Russian broadcasting over alleged hate report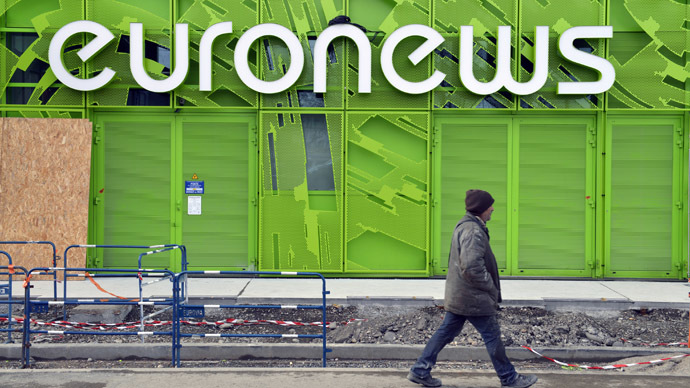 A ruling party MP demands that Euronews be stopped from broadcasting on Russian territory after a report from Ukraine on which local law enforcers used President Putin's portraits as shooting targets.
MP Mikhail Markelov of the United Russia caucus has already addressed the state mass media watchdog Roskomnadzor and the Prosecutor General's Office with a request to officially ban the broadcasting of the Euronews channel and initiate a criminal case against it.
He cites a news report released on September 12 and repeated throughout the day in which a group of Ukrainian military personnel used Vladimir Putin's portraits altered so that they resembled pictures of Adolph Hitler as targets in their firearms training.
The lawmaker said that the Euronews footage was inciting hatred and also insulted Vladimir Putin's dignity and the dignity of all Russian people. He also told Echo of Moscow radio that the story was an obvious provocation.
"This is simply unacceptable and insulting, not only for the leader of our country, the person supported by the majority of Russian voters, but also for the Russian people who had elected their president," Markelov said.
"This was further proof of Europe's double standard policy. The goal of this trick was to dispose Europe against Russia that would never show footage of people in Ku Klux Klan costumes defiling [US President] Obama's portrait," Markelov said in separate interview with popular daily Izvestia.
Roskomnadzor's spokesman Vadim Ampelonskiy told the Interfax news agency on Monday that the agency had not yet received Markelov's official request, but promised that once it happens it would check all facts and undertake all necessary measures if the violation of the law proves to be true. The spokesman also said that the ban will be enforced only after the video in question is studied by Roskomnadzor specialists and legal experts.
However, deputy head of the State Duma Commission for Information Policy, MP Leonid Levin (Fair Russia) opposed the idea."Russia must not behave like Ukraine, where Russian TV channels are being closed and blocked from broadcasting," he told ITAR TASS. In late August Ukrainian authorities ordered to ban 14 Russian TV channels from broadcasting in the country's cable networks over alleged "information aggression" and sowing discord among Ukrainian citizens.
In mid-August, Euronews came under fire from the Russian Foreign Ministry, which objected to the channel's coverage of the delivery of Russian humanitarian aid to the war-hit eastern regions of Ukraine. According to the official statement, Euronews attributed to Foreign Minister Sergey Lavrov the suggestion to use International Red Cross trucks in the operation and then reported that Moscow had changed its mind. The Russian ministry noted that the described suggestions had never been made and demanded that Euronews refute the report and apologize.
Before this incident, deputy head of the Foreign Ministry's information department, Maria Zakharova, noted the extreme biasness of Euronews reports on Ukraine in a Facebook post.
"Fantastic Bias and partiality of the Euronews reports is simply amazing, " Zakharova wrote.
Euronews is a multi-lingual news channel established in early 1990s by a group of major European broadcasters with support from the European Union's ruling bodies. Russia's state television and radio broadcasting corporation VGTRK is a major holder of Euronews' stock (16 percent), along with state television companies of France, Italy, Spain and Switzerland.