Russians say successful international policy is Putin's major achievement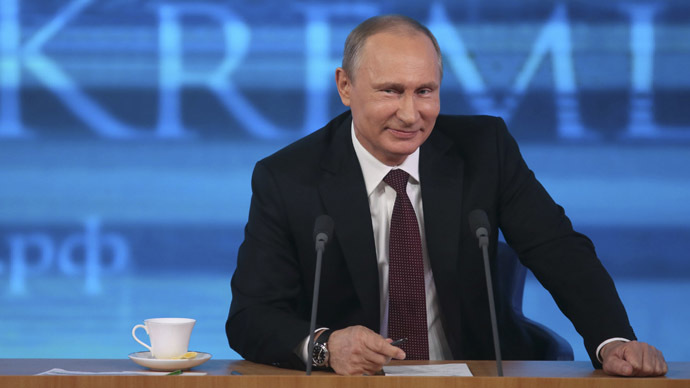 Vladimir Putin's most important accomplishments as president are successful foreign policy, the growing military strength, and the general improvement of living conditions in the country, according to the latest opinion poll.
The independent Levada Center released the poll on Tuesday. The strengthening of Russia's position on the international stage is Vladimir Putin's most important success according to 30 percent of those responding. The number has increased from 26 percent in 2008, and 19 percent in 2004.
Maintaining political stability in the country ranked second with 29 percent of people saying it is Putin's primary achievement, and almost the same share of respondents – 28 percent – say it is the reform of the Russian military and the general strengthening of the nation's defense capability.
About a quarter of Russians value most the improvement in living standards and the growing incomes of ordinary people, and a similar number say that with Putin as a leader they feel growing optimism.
Other achievements recognized include, solving the Chechen problem (23 percent), economic growth (22 percent), stronger economic ties with CIS countries (17 percent), battling corruption (13 percent) and restricting the oligarchs' influence on politics (11 percent).
Only eight percent of respondents claimed that they could not point at any achievements that can be attributed to Putin's leadership.
The poll was conducted in late August in 134 places in 46 regions across Russia.
Vladimir Putin's popularity reached a historical record in August when 52 percent of people told the Levada Center that they would vote for Putin if a presidential election was held the next weekend. The figure was just 29 percent in January this year. Among Russians with firm political preferences the share of Putin's supporters was even higher at 82 percent. Another influential pollster, the Public Opinion Foundation, conducted similar research a week earlier and found that 68 percent of all potential voters were ready to support Putin in presidential elections, compared to 58 percent in March and 46 percent in January.
Russian analysts attribute the current success of Putin and his allies to the difficult international situation and the acute crisis in Ukraine that has led to a mobilization of society in the face of pressure from the West.