Putin to personally head top Russian weapons agency - report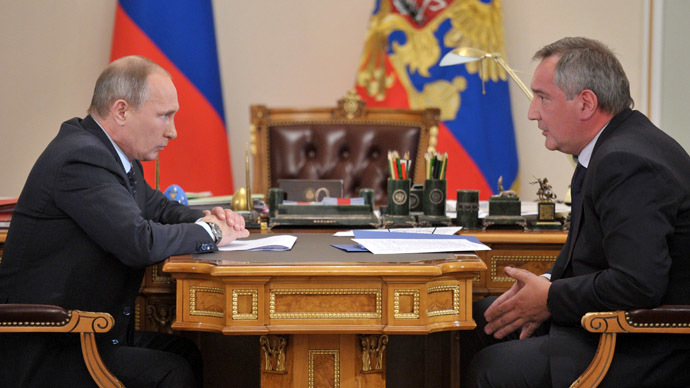 Control over the Russian Military Industrial Commission will shortly be transferred from the government to the president, with Vladimir Putin assuming the chairman's post, according to a press report.
The popular business daily Kommersant has quoted an unnamed source in the presidential administration as saying that the Military Industrial Commission will be taken to a "principally new level." Putin's personal leadership will allow for fast and clear solutions of all potential conflicts between industrialists and the military.
According to the source, representation from weapons-making corporations and top military command in the new body will be balanced. The current head of the commission, Deputy PM Dmitry Rogozin, will become first deputy chairman and he will also chair the commission's main ruling body – the collegium. Deputy Defense Minister Yuri Borisov is set to become executive secretary of the commission, with powers to form the daily agenda of its sessions. All current permanent members of the Military Industrial Commission will retain their posts, the newspaper reported.
The source also said that the reform's plan had been developed by the government and had already received approval from the presidential administration. The official announcement of the changes is expected to take place next week during a working conference between Vladimir Putin and government officials.
According to the source, the viability of the scheme has already been tested on the Commission for the Development of the Fuel and Energy Complex – this body is also chaired by Vladimir Putin and it works very effectively.
Russia is currently running a major program to rearm the military. It started in 2008 and will continue till 2020. By then 70 percent of all weapons in the military forces must be replaced by new models. The state is allocating significant sums for the purpose – in 2014 the total defense budget amounted to 2.3 trillion rubles ($60 billion), compared to just 600 billion rubles ($15 billion) in 2003.
Additional reforms and spending were also forced by the current Ukraine crisis. Facing the turmoil and hostility of the present Kiev regime, Russian authorities decided to cut ties with Ukrainian weapon makers and relocate all production in Russia. President Putin discussed the plan with Deputy PM Rogozin in late July and stated that the inevitable hardships and complications would eventually benefit the nation – new factories will appear in previously underdeveloped places, and old enterprises will be replaced with modern ones.
The Military Industrial Commission, within the Russian government, was created in 2006 and the body quickly received powers to make state defense orders and oversee their execution by government firms as well as domestic and foreign private contractors.
Dmitry Rogozin was appointed deputy PM in charge of the weapons industry in December 2011 and has chaired the commission since then.
You can share this story on social media: