Communists urge state control on food prices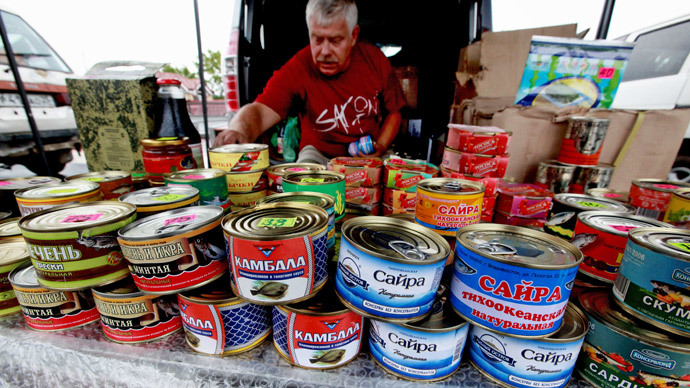 A group of Communist Party MPs have drafted a bill that would toughen state control over food prices as the media warned of speculators' attempts to take advantage of the situation with sanctions on US and European food products.
The lawmakers, headed by Communist Party leader Gennadiy Zyuganov, claim that the present situation in the agricultural sector demands urgent attention as middlemen deprive producers of the main part of the profits. "The work of a farmer – the main participant in grain production – is estimated at between six and eight percent while in all developed countries this parameter never falls under 50 percent," reads the explanatory message submitted together with the bill.
The Communists suggest that the government should be allowed to set upper limits for trade markups for certain agricultural products. The sponsors of the bill hold that for grain, milk, vegetables and some other products a fair markup must be under 45 percent for producers, 15 percent for the processing industry, 10 percent for the wholesale trade and 15 percent for retailers. The exact list of goods that fall under the regulation must be set by regional authorities.
The law provides that agricultural cooperatives do not fall under the restrictions.
The bill also includes a rule that orders resellers to pay a one percent fine for every day a payment to producers is delayed.
The Communists said that domestic businesses in agriculture production and the food industry would only benefit from the bill, but the Russian media warned the move brought back memories of Soviet-era price regulation and could harm the economy.
Earlier this month the Russian Agriculture Ministry suggested allowing regional authorities to make special agreements with food producers in order to stabilize food prices and prevent "speculation processes." However, the Federal Anti-Monopoly service opposed the plan, saying that similar measures have failed to bring positive results during previous crises, and the government rejected it.
The European Union, the United States and several of its allies have imposed economic sanctions on senior Russian officials and some larger companies over Russia's alleged role in the current crisis in the east and southeast of Ukraine.
In early August Russian Prime Minister Dmitry Medvedev signed a ban on imports of meat, fish, cheese, milk, vegetables and fruit from Australia, Canada, the EU, the US and Norway. Medvedev also said Russia did not fear the sanctions and that attempts at exerting pressure on the country would have no effect.
A public opinion poll conducted by the VTSIOM agency in mid-August showed that 92 percent of Russians feel no effect of the sanctions on their interests or well-being. Only four percent replied that they had noticed an increase in retail prices and another four percent declined to answer or reported actual problems, such as frozen bank accounts or the loss of a job in a foreign-based company.
You can share this story on social media: