Top Russian diplomat expects no new reset in relations with US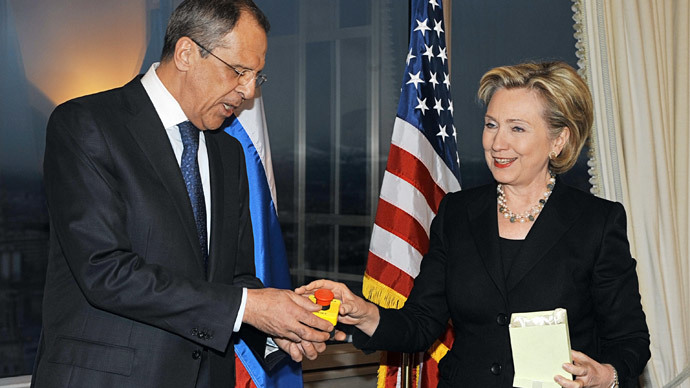 Russia's deputy foreign minister says relations with the US will not improve in the near future, as Washington's sanctions policy has already gone too far.
"Of course, there will be no new 'reset' like the one that happened a few years ago, and that yielded some positive results, I am still sure that this period was marked with a number of positive changes in Russian-US relations. But now I cannot foresee or expect anything like this," Sergey Ryabkov said in an interview with the Russian media.
"It is unlikely, because Washington has gone too far in its anti-Russian rhetoric and the constant urge to punish us for something, now it will be difficult to 'rewind' the situation," he noted.
The Russian diplomat said it was very regretful the US foreign policy doctrine does not extend beyond the use of sanctions and quasi-sanctions in reply for all events that do not satisfy their current desires.
Ryabkov also said that Russian authorities were facing a major setback in cooperation with the United States and this setback was because of the US initiative.
"We have not touched a single issue in order to, let's say, demonstratively influence the minds and moods in Washington. Everything we are doing is just a reciprocal measure and a reaction to the inadmissible steps performed by the USA," he said.
The traditional cooperation formats have already been frozen, and the possibility of their restoration remains rather vague in the current conditions, the official stated. The Russian side would like to hope these were not liquidated completely, he said.
Still, the top Russian diplomat emphasized that Moscow would continue the dialogue and would calmly inform all its partners about Russia's positions on all issues, defending its interests.
Ryabkov's statements came against a background of the threat of new sanctions against Russian companies and officials that come from Washington and Brussels. Earlier this year the USA, the EU and several US allies, like Canada and Australia introduced entry bans and asset freezes against Russian officials, politicians and heads of state-owned corporations over Russia's alleged complicity in the current crisis in Ukraine and the accession of the Crimean Republic into the Russian Federation that was strongly opposed by the West, despite being almost unanimously welcomed by Crimeans.
You can share this story on social media: