Russia to introduce new 'solidarity' tax on rich
Published time: 22 Jul, 2014 10:01
Edited time: 22 Jul, 2014 10:01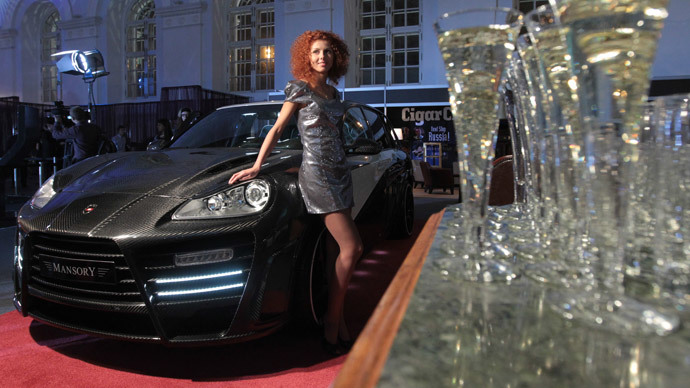 State Duma deputies want to levy an additional tax on people with high personal incomes in order to finance the development of the new federation areas of Sevastopol and Crimea.
The motion has been prepared by a group of MPs led by the Andrey Krutov of the center-left Fair Russia party. At the moment the group is completing consultations with legal experts and the bill will be submitted to the Lower House in the fall, Krutov said in an interview with popular daily Izvestia.
The draft suggests that personal income tax for people making 12 million rubles (about $343,000) per year or more should be raised from the current 13 percent to 30 percent. The motion sponsors say the changes would touch about 0.2 percent of the "socially active" population, but deal with over a third of the combined personal income of all Russian citizens. If the bill is passed it will add from 300 to 500 billion rubles ($8.6–14.3 billion) to the state budget in the very first year, the MPs claim.
Russia's Federal Target Program for development of the Crimea and Sevastopol needs about 790 billion rubles ($22 billion) of funding in the next five years.
"The new federation subjects – Crimea and Sevastopol – have been underfinanced for decades and right now the budget lacks the means necessary for investment. What we need is a complex solution of this problem – not a one-time withdrawal of money, like freezing the pension savings under the excuse of launching joint-stock pension funds or a universal increase in the tax burden. I am sure that our bill will get support from the majority of Russian people as well as from the government," Krutov told reporters.
Russia has a flat income tax of 13 percent for all citizens, one of the lowest rates in the world. Government officials have repeatedly suggested to raise it, but never sought to introduce a progressive scale.
Earlier this year Finance Minister Anton Siluanov said income tax should be increased to 14 or 15 percent and also suggested an additional sales tax on all transactions. In late 2013 Deputy PM Arkady Dvorkovich suggested raising income tax to 15 percent and at the same time lower VAT from the current 18 percent to 15 percent, claiming that the move would boost business activity and help overcome economic stagnation.
Krutov opposed the plans in his interview saying the universal increase would hurt the poorest members of the population, and quoted the international experience which suggests levying additional taxes on the rich.
The MP suggested naming it the "solidarity tax" – following the example of Germany that introduced the 5.5 percent "solidarity surcharge" in 1991 in order to finance the infrastructure projects in the Eastern parts of the country. Italy, France and the Czech Republic also have similar taxes.