Upper house to launch public committee to support victims of Ukrainian military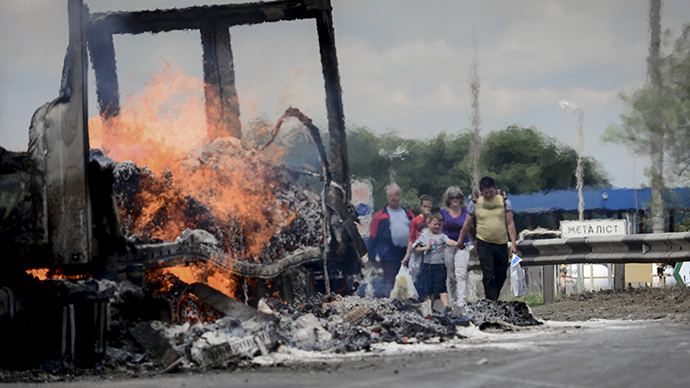 Russian senators have promised to create a major NGO to provide aid to residents of south eastern Ukraine and refugees from the region. The group will accept anyone willing to help.
The idea to launch the group called "Committee of Public Support of Residents of South Eastern Ukraine" belongs to the Federation Council speaker Valentina Matviyenko. In a speech addressed to the Russian monitoring commission she said that behind the statements about the promises of a peaceful settlement the Kiev regime had unfolded a major campaign of "Russophobic hysteria" and took steps to further escalate the tensions in the Southeast of the country.
"If the international community made a resolute statement on inadmissibility of such actions, the Kiev authorities would stop to act like tough guys who can do anything they want," Matviyenko added.
According to the preliminary plan, the committee would be headed by Senator Nikolai Ryzhkov – the veteran Russian politician who comes from the troubled Donetsk Region. In an address to fellow senators Ryzhkov said that the current situation in Ukraine was masterminded by Western leaders and its final objective was to drag Russia into a new world war. "They have no need in Donbass, they need Russia, it is Russia they want to defeat. There are people there who would do anything to drag us into a world war, but we absolutely cannot allow this," the politician said. "At the same time, if we abandon our brothers in the Southeast, they would never shake hands with us again," he added.
Other members will include senators and Lower House MPs, heads of various public organizations and political groups and, according to Senator Matviyenko, "all who have compassion and who are ready to help."
The Federation Council speaker also voiced a plan to call an international tribunal that would establish those responsible for the great number of deaths in Ukraine. The tribunal could listen to testimonies of victims and witnesses, foreign correspondents and critics of the current Kiev regime.
The representatives of the Ukrainian federalist movement – The Prime Minister of the unrecognized Donetsk People's Republic Andrei Boroday, and the envoy of the unrecognized Lugansk People's Republic Irina Shablovskaya approved of the initiative.
In a speech before Russian senators Boroday said that the people of Donbass desired to live in the Russian Federation, but understood the complicated political situation as well as the threat of sanctions. "We are grateful for any help and support, we wait for it. With it we will be able to defeat the invaders," the federalists' leader said.
Shablovskaya, in turn, suggested that the committee launched an information center for Ukrainian refugees that would coordinate help to those who flee from the Ukrainian army's punitive operations.
The newly formed committee must participate in international events dedicated to the settlement of the Ukrainian crisis, said Foreign Ministry's Human Rights envoy Dmitry Dolgov.
You can share this story on social media: