Duma rejects amendments to end all sex propaganda to minors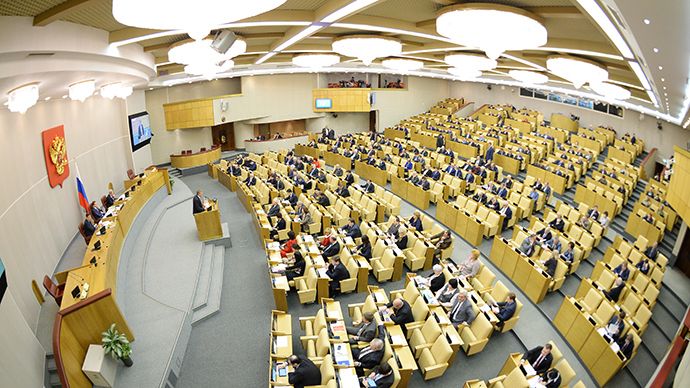 Russia's lower house has voted against a proposed bill that would ban the promotion of all sexual material aimed at minors, with which its authors planned to amend the already existing law banning gay propaganda.
The bill containing the radical restrictions was drafted by MP Maria Maksakova-Ingebergs of the centrist conservative United Russia party, which currently holds the majority of seats in the parliament. It suggested a change in the federal law on children's rights and the one protecting children against potentially harmful information.
In particular, the MP wanted to recognize "any information that promotes the priority of sexual relations before life values, spiritual and intellectual development" as harmful for the children's health and development. The measures would be backed by fines for those publishing such concepts in the mass media, cinema and internet sites.
The Lower House committee for family women and children opposed the draft claiming that Russian legislation already had bans on distributing information products containing sexual references among minors. The committee's members also said that if the bill was passed it would practically replace the recently introduced ban on gay propaganda towards children which is undesirable as the ban was protecting the foundations of the family institution.
Russia introduced the law banning the promotion of non-traditional sexual relations to minors in mid-2013. Before and after this move LGBT activists inside the country and abroad dubbed the act 'the gay propaganda ban' and called for protests ranging from a boycott of Russian vodka to a boycott of the 2014 Winter Olympics in Sochi.
Russian sponsors of the ban and senior officials have repeatedly noted that the law is not discriminatory and only seeks to protect children. President Vladimir Putin also described the ban as non-discriminatory and said he was ready to meet with leaders of the LGBT community to discuss their problems, but had not yet received any suggestions.
Despite the vocal and frequent protests the majority of the Russian public supported the law. A 2013 a poll conducted by the influential independent Levada research center showed that about 85 percent of adult Russians were strongly against same sex marriage, and 87 percent oppose the idea of gay pride events in their cities.