Public activists to sue Kiev regime in European rights court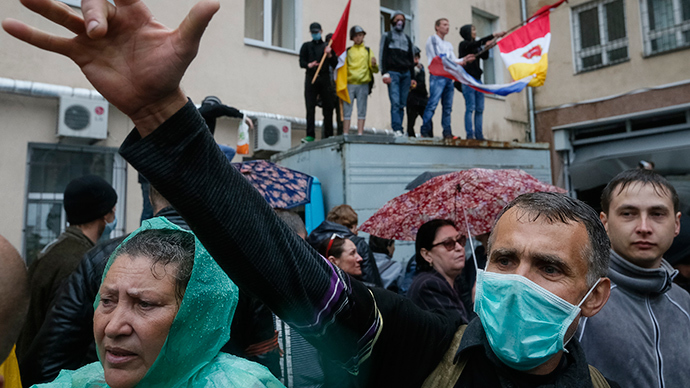 Russia's public chamber has initiated a petition aimed at bringing the current Kiev authorities to account for creating the conditions that led to mass murder of civilian protesters in Odessa.
One of the Public Chamber members, the head of the Civil Control NGO protecting the voters' rights, Georgiy Fyodorov, has said that the group has already prepared a lawsuit against the Ukrainian authorities and intend to submit it to the European Court of Human Rights. In it they demand the Ukrainian leaders answer for their actions and their complicity be established in the attacks that killed dozens of peaceful anti-Maidan protesters in Odessa as well as other attacks against civilian protesters in eastern and south-eastern Ukraine.
The NGO also posted a petition on the internet in support of the initiative and it had gathered several thousands of signatures by Monday, May 5.
"Today, the rights of the bigger part of the Ukrainian population are not protected by anyone in this state. People get kidnapped and transported to undisclosed locations without any charges, people get robbed and killed without any prosecution for the criminals. The agencies responsible for the public order prefer not to act. The self-appointed government is instigating ethnic hatred and promoting the genocide of its own people," the petition reads.
Another Public Chamber member – Maksim Grigoryev- has told reporters that he had already addressed the United Nations Human Rights Council and the OSCE monitoring mission with requests to conduct a more thorough investigation into the Odessa tragedy, as well as other recent Ukrainian events.
Grigoryev chairs the non-commercial Foundation for Problems of Democracy and he said that his group was preparing a report dedicated to Ukraine. "It is right to address the European Human Rights Court even though I do not expect this move to bring any feasible results. After the Odessa massacre the statements of UN and OSCE representatives were quite soft, but after some time the sobriety will come, like it happened with the Georgia war of 2008 and Western nations will understand that the people that they are supporting now are typical neo-Nazi groups, discriminating against people by their ethnicity and ready for any actions. We should lodge our complaints now so that the West understands that the situation is very serious," the activist said.
On Monday, Russia's Foreign Ministry released an extensive report on human rights violations in Ukraine, and forwarded a copy of the document to President Vladimir Putin.The report, dubbed the 'White Book', was made on the basis of reports of Russian, Ukrainian and foreign mass media as well as interviews of victims by Russian NGOs. It describes the abuse of law, use of torture, inhuman treatment and other Human Rights violations in Ukraine from the end of November 2013 to the end of March 2014.
According to the authors, the aim of the document is "to focus on facts which the international community and key international human rights bodies have not shown proper and impartial attention to."
You can share this story on social media: