Upper house passes new 'blogger bill' despite protests from industry, rights officials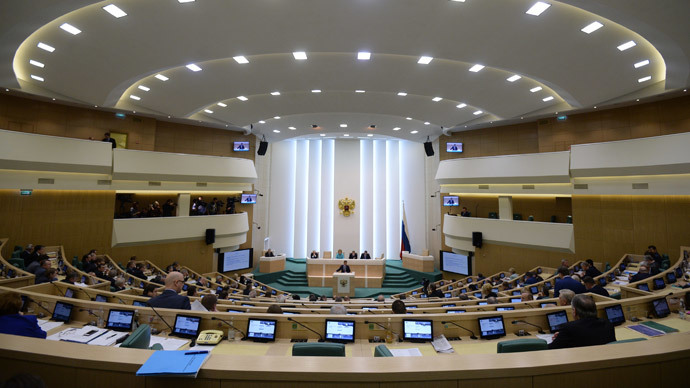 Russia's Federation Council has passed the bill introducing obligations for maintainers of popular blogs, roughly similar to the existing rules for mass media.
The new bill introduces a definition of 'blogger' to Russian legislation. Popular blogs, defined as those that have 3,000 or more visitors per day, will have to register on a special list maintained by the consumer rights agency Rospotrebnadzor, and follow certain rules.
The authors will have to sign the posts with their real name and verify the information they publish. They will also be banned from posting extremist and terrorist information, propagating pornography or violence, and disclosing state or commercial secrets and personal data of citizens. Popular bloggers will not be able to use obscene language and will face some other restrictions, such as a 'day of silence' ahead of elections.
At the same time bloggers receive the right to make official inquiries and for commercial activities – they can have advertising in their posts and receive money for it.
The rules are enforced by the authorities through internet service providers who can be ordered to block certain bloggers for violations and provide information about the real people behind web aliases. Refusal to comply will be punished with fines of between 10,000 and 30,000 rubles ($270- $833) for individuals and between 50,000 and 300,000 rubles ($1400- $8300) for businesses.
The bill also introduces a special legal term for social networks, blog platforms and any sites with readers' comments. They are called "distributors of information on the internet" and also face obligations to register with Rospotrebnadzor, store the user-generated content and logs of user activity for six months, and present the data to the state watchdog upon request. Refusal to comply will be punished by fines – from 3,000 to 5,000 rubles (US$83-$140) for private citizens, from 30,000 to 50,000 rubles ($833-$1,388) for officials, and from 300,000 to 500,000 rubles ($8,330-$13,888) for business entities.
The bill was dubbed by reporters as "equating bloggers to mass media," but its authors and sponsors protested against such wording, saying that the bill only applied to popular blogs, while the websites already registered as mass media do not fall under its regulations.
The document has drawn a great deal of criticism from the internet industry, which was upset at being saddled with additional responsibilities without compensation. After it was passed by the lower house, Russian internet major Yandex closed the ratings of blogs in its search engine and also stopped indicating the number of readers for separate bloggers.
Popular blog platform Livejournal has also announced that it was hiding the statistics to help its users dodge the new regulations as they come into force.
However, the head of Rospotrebnadzor, Aleksandr Zharov, has called that move "emotional" and assured reporters that his agency would be able to obtain the data on popular bloggers without any help.
Shortly before the bill was forwarded to the upper house, the chair of the Presidential Council for Human Rights, Mikhail Fedotov, addressed the Federation Council speaker with a request to reject it. Fedotov quoted procedure violations (the bill has not received the government approval which is necessary under constitution as it would require additional budgetary spending), but noted that the state regulation of blogs and social networks was a necessary thing.
To come into force the bill now has to be signed by the president and published.
You can share this story on social media: