Leftist MP suggests establishing veterans' ombudsman post
Published time: 28 Apr, 2014 09:16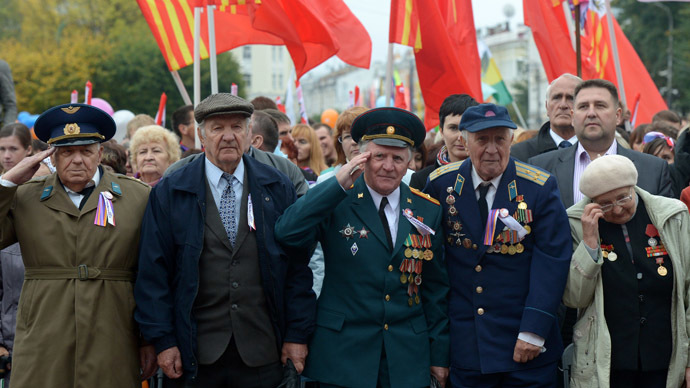 A Russian lawmaker holds that the country needs an official who would protect the veterans' rights and help them cope with the rapidly changing laws and shifts in national economy.
Oleg Mikheyev of the center-left Fair Russia party has addressed the government and the Public Chamber with a request to institute the post of plenipotentiary for veterans' issues, or the veterans' ombudsman, the RIA Novosti reported on Monday. Mikheyev wrote in the letter that he was ready to prepare and draft the bill himself if the initiative meets no objections.
"Introducing this post is necessary due to the need to maximally protect the veterans' rights in Russia, especially veterans of the Great Patriotic War [WWII] and other wars, the need to help them cope with the hardships of the transitional period economy including the constant changes in the legislation," the letter reads.
A special ombudsman could also speed up the solution of many veterans' problems that are currently hampered by bureaucracy, the MP noted.
Mikheyev added that the legislative move would be timely as the country readies for the celebrations of the 70th anniversary of victory over Nazi Germany in 2015.
The dedicated federal law on lists five categories of veterans, including a separate one for the veterans of the Great Patriotic War. They are all entitled to various benefits, from monetary payments to free public transport and reduced communal payments.
The number of the war veterans, widows and orphans was estimated at about 3.2 million in mid-2013.
In late 2012 the Justice Ministry registered the political Party of Veterans of Russia that lobbies both state authorities and business structures for more benefits to veterans.