Russian MPs ban swearing by popular bloggers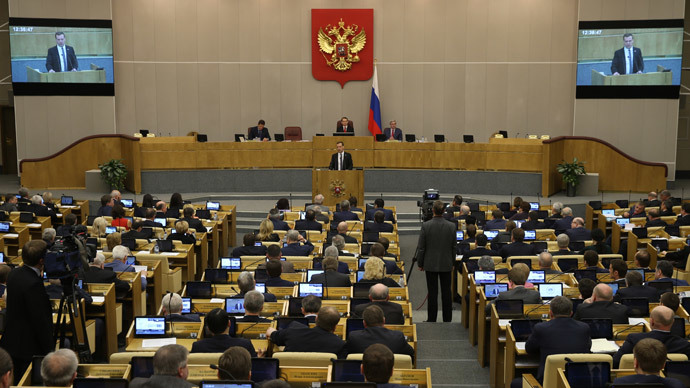 The Lower House has given its final approval to the controversial draft law tightening the regulations on the Russian blogosphere and bringing popular bloggers close to conventional mass media, including a ban on obscene language.
The new bill introduces a definition of blogger to Russian legislation for the first time. Once it is signed into law popular blogs, defined as those that have 3000 or more visitors per day, will be registered in a special list maintained by the consumer rights agency Rospotrebnadzor. The authors will have to sign the posts with their real name and if it does not happen the state watchdog would require hosting providers and owners of blog platforms to provide the information. Refusal to comply will be punished with fines of between 10,000 and 30,000 rubles ($270- $833) for individuals and between 50,000 and 300,000 rubles ($1400- $8300) for businesses.
Other rules applying to state-registered bloggers are similar to those working in the mainstream mass media – they are banned from posting extremist and terrorist information, propagating pornography or violence, and disclosing state or commercial secrets. The bloggers will be obliged to verify the information they post, delete false reports and abstain from disclosing people's personal data. They will also be banned from using obscene language. Some other restrictions may apply, such as the "day of silence" ahead of elections.
At the same time bloggers receive the right to make official enquiries and for commercial activities – they can have advertising in their posts and receive money for it.
The bill has drawn a lot of criticism from internet activists and Human Rights advocates who said that it was equating bloggers to conventional media outlets and therefore contradicted the existing federal law on mass media.
However the sponsors of the law rejected these allegations saying that the bill introduced the very definition of blogger and mentioned that websites already registered as mass media do not fall under its regulations.
Proponents also dismissed the fears that bloggers would be obliged to keep 12-hour logs of internet connections and present them to the security services without a court warrant, as provided by recent amendments to the federal law on information, saying that this is the responsibility of those who distribute the information - hosting providers and blog platforms.
You can share this story on social media: