Orange anniversary: Cop-opposition clashes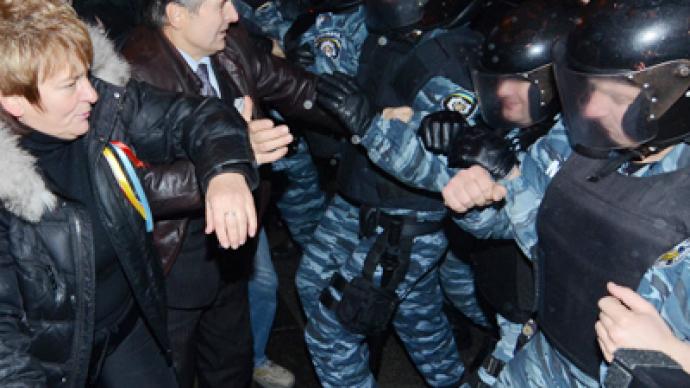 Police clashed with opposition in the Ukrainian capital Kiev on the seventh anniversary of the events known as Orange revolution.
­Protestors gathered on the central Independence Square, where the main events of the 2004 revolution unfolded. Participants of the rally then marched down the main street Kreshchatik, singing the national anthem and shouting "Glory to Ukraine!", "Revolution!", "You can't stop freedom!" When the protestors tried to occupy the traffic area, police blocked their way and they turned back to Independence Square. More than 2,000 opposition members reportedly took part in the protest.
In another part of the square, a rally was held by several hundred supporters of the Military Union of Ukraine, which is linked to the pro-president Party of Regions.
According to Interfax, four opposition activists were detained for petty hooliganism but later released.
After Viktor Yushchenko came to power following the Orange revolution, he declared November 22 a national holiday – Freedom Day. In 2010, Yushchenko lost the presidential election to his rival, Viktor Yanukovich. Ahead of this year's anniversary, the opposition announced it would stage protests, despite a court ruling banning any mass action on Independence Square on November 22. The ban was proposed by the country's security services, who warned that rallies could result in clashes and obstruct events planned for the visit of the Lithuanian president.