Hundreds protest against newly adopted cyber surveillance laws in Moscow
Hundreds of people have joined a rally against a newly passed anti-terrorist package of bills introducing deeper state control over electronic communications resulting in potential financial obligations on Russian internet providers.
The demonstration, held in Sokolniki Park in the northeast of the Russian capital, was organized by some opposition groups and particularly by a regional lawmaker and IT specialist Leonid Volkov. A prominent Russian opposition figure, Aleksey Navalny, also delivered a speech at the event.
The rally was also attended by the members of some leftist groups and anarchists. Information about the number of people, who joined the rally, differs significantly in various sources. Some media outlets say that the demonstration was attended by about 600 people, while other put the number of participants at 2,000-2,500 and the organizers claim that the number of demonstrators reached 4,000.
Read more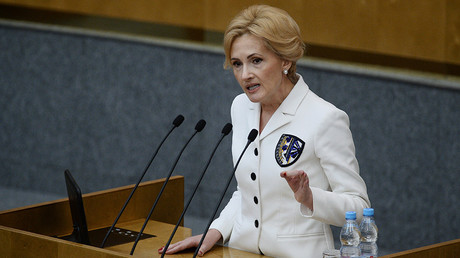 The rally was held under the slogan "For free internet." The organizers said that the new law places an intolerable burden on Russian internet providers that would eventually result in higher prices for internet services or even can lead to "an end of the internet in Russia."
The new law in fact obliges all communications companies, including internet providers, to retain information about data traffic on their servers for three years (one year for messengers and social networks). It also requires them to keep actual records and messages for six months.
The protesters stressed that such requirements force internet providers to buy and maintain highly expensive technical equipment. They also argued that the new law also would also require significant government financing of the new measures and could potentially open up the possibility for corruption.
The rally started at about 18:30 (local time) (15:30 GMT) and lasted till 21:00 (local time) (18:00 GMT). The organizers initially planned to stage a rally on July 26 but failed to obtain approval from the Moscow authorities. As a result, the rally was postponed to August 9. The demonstration was peaceful and no incidents were reported.
The new anti-terrorist law was passed by the Russian parliament on June 24 and signed by the president on July 7. It will come into force on July 1, 2018. Apart from putting new obligations on internet providers, it also introduces life sentences for international terrorism and lowers the age threshold for extremist crimes to 14 years.