Ex-mayor gets 12 years in central Russia bribery scandal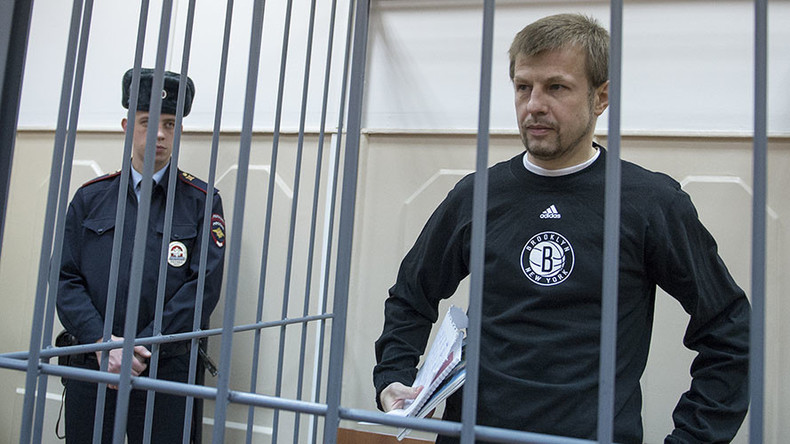 A district court in the central Russian city of Yaroslavl has sentenced former mayor Evgeny Urlashov to 12.5 years in prison for extorting a multimillion-ruble bribe from a street cleaning company.
The court also sentenced Urlashov's former aide, Aleksey Lopatin, to seven years, but fully acquitted the former mayor's deputy, Dmitry Donskov, who had also faced charges within the same case.
The court also ordered the former mayor to pay a fine of 60 million rubles (about US$900,000 at current rates).
Urlashov's case dates back to July 2013, when he was detained and charged with attempted large-scale bribery. Four more people – local civil servants and managers of municipal companies – were implicated in the case. Urlashov had worked as Yaroslavl mayor for about a year before his detention.
READ MORE: Mayor-in-opposition to United Russia ruling party detained
According to investigators, a group of Yaroslavl city officials headed by Urlashov attempted to extort a bribe from a local businessman who was working on a city contract. The mayor and his aides reportedly wanted a kickback of 45 million rubles (over $1.2 million at that time) from the cleaning company, threatening not to accept the work and delay payment if their demands were not met.
During the initial stages of the investigation Russian mass media quoted sources in law enforcement as saying that all the suspects with the exception of Urlashov had pleaded guilty and had testified against their boss and business partner.
Urlashov, however, insisted on his innocence and decried the case as political prosecution, as he is a known opposition figure in the region. He also said the businessmen who allegedly offered him a bribe were members of the United Russia party seeking revenge for their defeat in the mayoral elections of 2012. Urlashov claimed he had constantly faced attempts to corrupt him since becoming the head of the city, but had never succumbed to the temptation and had not reported such incidents to the police.
In April 2012 Urlashov won the mayoral polls in Yaroslavl running as an independent candidate and defeating United Russia representative by a huge margin. Yaroslavl elections caused extremely sharp reaction from United Russia leader Dmitry Medvedev who called the situation inadmissible and a failure.
Investigators countered Urlashov's claims by releasing to the mass media a video in which he personally collected a 500,000-ruble (over $15,000 in 2013) bribe from a local businessman.
Nevertheless, the ex-mayor continues to insist on his innocence, and in his final plea on Wednesday asked the court to reconsider the case. "This is a political process. All revolutionaries have done time," Interfax news agency quoted him as saying.
READ MORE: Court orders pre-trial arrest of opposition Mayor Urlashov

Defense attorney Ksenia Karpinskaya told reporters that the ruling would be appealed, adding that the court had interpreted all doubts in the case as technical mistakes which, in her words, violated the presumption of innocence.
The prosecutors, who initially asked the judge to sentence the ex-mayor to 15 years in prison, also said they would possibly appeal the verdict.