Crimea prosecutor Poklonskaya ready to run for parliament on pro-Putin party ticket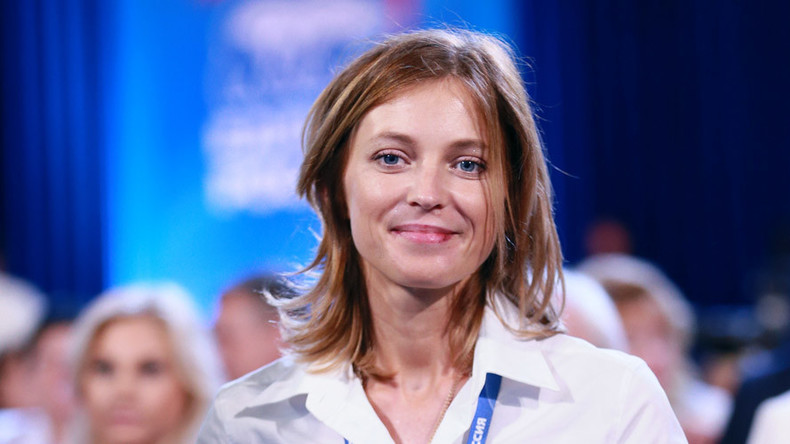 Chief prosecutor of the Republic of Crimea, Natalya Poklonskaya, has said she will run for the State Duma as part of the United Russia party ticket, and that if elected she would be best suited to a role on a security or anti-corruption committee.
"I plan to work in the State Duma if I am elected. This is a new level and I plan to apply the skills and knowledge I have received while working in law enforcement," Poklonskaya said when reporters asked her to comment on the news that she was included in United Russia's elections list, along with several senior regional officials and politicians.
"[President] Vladimir Vladimirovich [Putin] has charged us with the task to renew the State Duma and I would like to be a part of this process," she added.
READ MORE: 'Worse than treason': Putin warns against speculation on nation's problems ahead of polls

At the same time, the official said she would be pleased if fellow Crimeans trusted her to represent the republic in parliament. "I would never abandon Crimea. If my compatriots give me the powers to solve the peninsula's problems, I would be very grateful to them and I would have to justify their trust," Poklonskaya told reporters. "Yes, I am changing the format of my work. But I have a great soul urge to work for the benefit of Russia and Crimea, to help people."
The official also said she could see herself serving as a member of the lower house committee for countering corruption, or the committee for the affairs of the Commonwealth of Independent States and ties with the Russian diaspora.
The State Duma elections are scheduled for September 18 this year. Half of the 450 lawmakers must be elected from party lists and the other half from independent constituencies. The Republic of Crimea has three such constituencies and the city of Sevastopol, which is a separate subject of the Russian Federation, has one.
Natalia Poklonskaya took the office of Crimea's chief prosecutor at age 33, very soon after the republic seceded from Ukraine and joined the Russian Federation in 2014. She did this despite threats of arrest and death from the Kiev regime and even assassination attempts that reportedly had been prepared by Ukrainian nationalists but were thwarted by Russian security services.
READ MORE: 'Rather be in prison than work for fascists' – Crimean Prosecutor Poklonskaya

Poklonskaya' s appearance and communication skills made her an international celebrity after the very first press conference in her new role. She became an internet idol, especially in Japan, where her fans call her 'Prosecutie' and have launched a cult of devotees who called themselves 'Nataliaites'.
However, Poklonskaya has expressed irritation over the media hype surrounding her name, and has asked reporters to treat her more seriously as "she was a lawyer, not a Pokémon or something of this kind."