Russia inspires other nations to fight terrorism – senate chair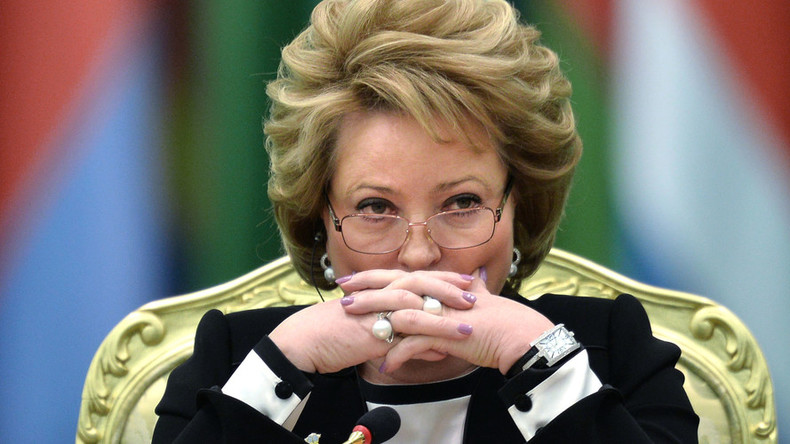 The successful operations of the Russian Air Force against international terrorism in Syria have prompted other states to apply more effort in this direction, upper house speaker Valentina Matviyenko said in a recent press interview.
"Russia has convincingly demonstrated its military and political leadership in this war which is important for all humanity. And this has caused other nations to become more active on the anti-terrorist front," Matviyenko told the Parlamentskaya Gazeta newspaper.
READ MORE: Top senator says Russia to help Afghanistan fight ISIS

The top senator added that the Russian authorities had decided to move to the front line of the anti-terrorist struggle for a valid reason. "We have been waging this war since the mid-1990s. We paid for our experience with hundreds of lives, and as a result we know that terrorism is a terrible threat," she noted.
She added that the current air force operation in Syria is being conducted to ensure the security of the Russian Federation and its citizens, but at the same time is protecting the lives of all people on Earth and the security of the human civilization itself.
"International terrorism can be defeated only through the joint efforts of the whole international community," Matviyenko concluded.
In early October this year, the Russian Air Force began to carry out surgical airstrikes on terrorist positions in Syria after a request for military aid was made by President Assad. The authorities emphasized that Moscow would not be involved in any ground operations – military involvement would only be in the form of aircraft and missile strikes.
READ MORE: Over 70 percent of Russians support anti-ISIS airstrikes in Syria - poll
Moscow has supported Bashar Assad's government since the start of the Syrian civil war, both with supplies of military hardware and diplomatic efforts. Russia has also delivered about 30 aircraft loads of humanitarian aid to Syria in the past two years, and has evacuated hundreds of refugees, including Russian and foreign citizens, from the war-torn country.