St. Pete lawmaker proposes ban on foreign flags at Russian rallies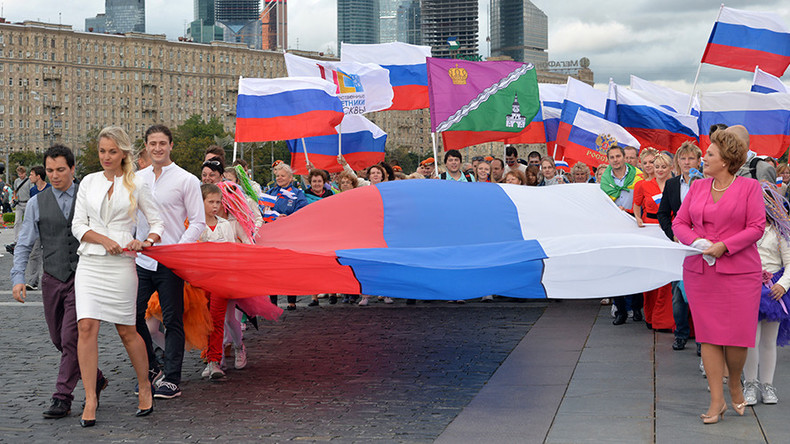 Vitaly Milonov of St. Petersburg city legislature thinks showing foreign flags at public events could provoke conflicts and should be banned.
The lawmaker, who is well known at home and abroad as the main sponsor of the Russian law that bans gay propaganda to minors, said his fresh initiative had been prompted by Russia's complicated relations with the European Union, Ukraine and Turkey.
"Public demonstration of some foreign flags can cause discontent among many citizens and provoke aggression in people," Milonov told popular daily Izvestia.
READ MORE: Police want to broaden law on rallies, cover new forms of protest
He said if someone chose to unfold the Turkish state flag on a Russian street it would definitely cause a negative reaction. Brandishing a flag of Ukraine in Russia could also cause conflicts, especially in Crimea, he added.
To prevent such incidents, Milonov proposed to amend the current Russian law on rallies with an article forbidding showing "flags or any other official state symbols of foreign states" at public events. He said in some cases this could be allowed, after the organizers of the rally explain to law enforcers why such action is necessary.
Presently the law forbids participants of rallies and other mass events to carry weapons and ammunition, and objects that can be used as weapons. They also cannot conceal their identity (for example by wearing face masks), and be under the influence of alcohol or drugs.
Milonov's bill suggests amendments to the federal law, but in order to be considered in the State Duma it must first be passed by St. Petersburg city legislature.
In March, Lower House MP Yevgeny Fyodorov of the majority United Russia party drafted a bill banning foreign citizens from participation in any opinion-forming public events, such as street rallies and marches. Fyodorov cited security concerns as the main reason behind his initiative.
READ MORE: Ruling party MP seeks to ban foreigners from Russian rallies
Russia introduced a law regulating mass street events in June 2012. Since then, several amendments have been added, tightening the responsibility for violations, but also allowing for unlicensed protests in special places the mass media dubbed 'Hyde Parks'.