'They won't pay us back because they are crooks' - Medvedev on Ukraine debt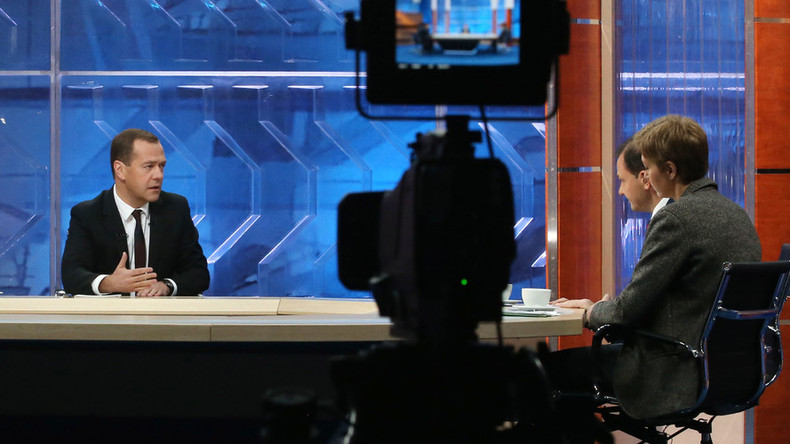 Russian Prime Minister Dmitry Medvedev has told reporters that Ukraine has no intention of repaying a $3 billion debt to Russia and sharply criticized Western governments for covering up Kiev's violations of perfectly legal financial agreements.
"I have a feeling that they [Ukraine] will not return anything [to us] because they are crooks," Medvedev said on Wednesday during an interview with several leading Russian TV channels. "They refuse to return the money and our Western partners not only render us no help, they are actually hindering our efforts," he added.
The Russian PM also reminded journalists that Ukrainian debt to Russia had been well planned, and that the initial agreement was sealed between the two national governments.
"Ukrainian authorities asked Russia to participate in bond placements so that they could solve some routine tasks of the Ukrainian economy. When two governments make an agreement this is obviously a sovereign debt," Medvedev noted.
READ MORE: Kiev doesn't rule out default on Russian debt
The PM also said the approach of the International Monetary Fund (IMF) and other players in the field of international finance was far from correct: "It is very surprising that international financial organizations have started saying this was not sovereign borrowing. This is rubbish. This is obviously a blatant and cynical lie," Medvedev stated.
He noted that according to commonly accepted rules, failure to repay a sovereign debt in time - also called a default on sovereign debt - should always lead to "unpleasant consequences" for the borrower.
On Tuesday the executive board of the IMF agreed to change its policy on lending to countries that are in arrears to other governments. Previous IMF guidelines on lending to such states were relatively strict, stating that "the IMF doesn't lend to countries that are not making a good-faith effort to eliminate their arrears with creditors."
With its $3 billion debt to Russia, Ukraine is among such countries covered in the IMF statement, with Kiev being on course to miss the end-of-the-year repayment deadline for the loan.
Russia has previously offered to restructure the debt on condition of a third party guarantee, but the Ukrainian side has rejected the offer.
READ MORE: IMF to change its lending rules for Ukraine – WSJ
In the latest developments on the issue, Ukrainian Finance Minister Natalie Jaresko told Nikkei business daily earlier this week that Kiev might refuse to repay the debt to Russia because of huge pressure on the part of the people.
This statement drew a sarcastic remark from Russian Foreign Ministry spokesperson Maria Zakharova.
"We have no questions but one," Zakharova wrote on Facebook after quoting Jaresko's statement. "Is 'strong pressure' on the part of Crimea's people considered as an argument for its reunification with Russia?"
Ukrainian officials have not answered this question so far.
On Wednesday, Russian President Vladimir Putin ordered the government to file a lawsuit against Ukraine if it misses the deadline on debt repayment.
"They could have participated in this all and share the risks. I even fail to understand this. All right then, just sue them," Putin told the cabinet after Finance Minister Anton Siluanov delivered a report on the situation with the Ukrainian debt and changes to the IMF regulations.
LISTEN MORE: