Russian activists launch united front to fight ISIS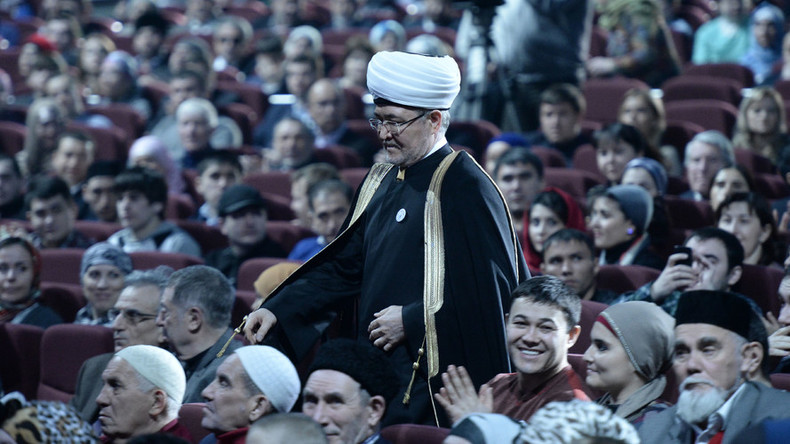 The Public Chamber and a major Muslim union will soon start a group called the United Muslim Popular Front for Countering ISIS. Its aim is to refute extremist propaganda and help believers distinguish true Muslim values from politicized prejudice.
One of the main sponsors of the initiative, Mufti of Moscow and the Central Russian Region Albir Krganov, said in comments with Izvestia daily that the new movement would concentrate on three directions in its work. Activists and clerics would monitor the situation in universities and schools, educate the younger generation through social networks and websites and also work with ordinary Muslims in mosques and in other public places and on the internet.
Krganov also mentioned plans to make the new movement nationwide in order to combat Islamic State (IS, formerly ISIS).
READ MORE: 'ISIS is not Islam' – Russian university releases anti-extremist textbook
The mufti emphasized that the new group would have nothing in common with bureaucracy and state bodies as it was a completely grassroots initiative aiming at countering extremism.
"Of course we will cooperate with all government, public and religious groups as well as with scholars. But the real opposition to pseudo-Islamic forces must originate from ordinary Muslims," Krganov said.
"On the opposing side there is a whole army of experts who use modern information technology and psychological tricks. We cannot fight them with some homegrown methods. I am sure that we will receive help from the Public Chamber, universities and everyone who wants to defeat the hydra of international terror," the Mufti stated.
In mid-November the central Russian Sverdlovsk Region started a massive campaign among officials and Muslim clergy seeking to counter IS propaganda, especially among the younger generation. The main tool used in the campaign is the 70-page book containing a brief history of Muslim religion with an emphasis on stories and extracts from the Koran that prove the inadmissibility of sowing war and strife in foreign lands. The book is currently being distributed among imams, civil servants, and also professors and students in higher educational establishments.
In March, two major Russian Muslim unions issued fatwas against IS, branding all of its members enemies of Islam and calling for their punishment as criminals. The imams also ruled that the term 'Islamic State' should be used in quotation marks, or omitted entirely to avoid insult to true Muslims who had no relation to terrorists and extremists.
READ MORE: Russian Muslims denounce ISIS as 'enemies of Islam'
Since last December, Russia has officially designated IS and the affiliated Al-Nusra Front as terrorist groups, banning all citizens from participating in these organizations and making those supporting them liable to criminal prosecution.
In addition, many Russian officials have called upon the international community to abandon double standards on terrorism and start fighting the threat in line with universally-recognized norms of international law.