'Ukrainian PM should be tried for war crimes' – Russian investigators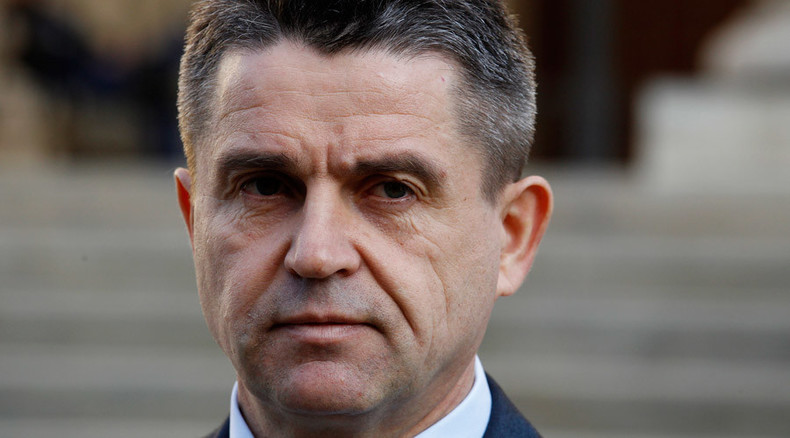 Prime Minister Arseny Yatsenyuk is responsible for numerous war crimes committed by the Ukrainian military and law enforcement and sooner or later will face a trial, the spokesman for Russia's Investigative Committee has said.
"Yatsenyuk was among many well-known persons, including top military officers, who personally issued orders to fire upon the civilian population of Donbass," Vladimir Markin said in an interview with Zvezda television.
The Russian official also said that he hoped people from southeast regions of Ukraine would sooner or later put those responsible for war crimes on trial, noting that the trials should take place in the same places where the crimes had been committed. "The very just trial is where the crimes took place," he said.
READ MORE: Communists seek official 'terrorist' tag for Ukrainian extreme right
Markin added that PM Yatsenyuk must share responsibility with other Ukrainian politicians and businessmen who helped to unleash and wage the war in Donbass. He named the former head of Ukrainian Security Service, Valentin Nalivaychenko, and oligarch Igor Kolomoisky as prime candidates for the war crimes tribunal.
The Russian official also reminded the reporters that the Investigative Committee had already begun a criminal investigation into the Donbass events, charging the yet-unnamed suspects with the genocide of Russian-speaking residents in the Donetsk and Lugansk regions of Ukraine. "The events in Donbass cannot be described by any other term than genocide. This was the reason why we started our probe, including into the genocide which is a crime under Russian criminal law. International law and the Russian criminal code allow us to instigate and investigate criminal cases, to bring to justice people who commit such crimes," Markin said.
In September this year, the head of the Investigative Committee, Aleksandr Bastrykin, said in an interview to the media that his agency had started a criminal case into Yatsenyuk's alleged participation in the war in Chechnya on the side of terrorists, as well as in tortures and executions of Russian prisoners.
READ MORE: Interpol puts Ukrainian ultranationalist Yarosh on wanted list
In March last year, the Investigative Committee began a criminal investigation into Dmitry Yarosh, the leader of the Ukrainian extreme nationalist movement Right Sector, which was one of the main driving forces behind the Maidan unrest and the subsequent war in Donbass. In Russia, Yarosh faces charges of publicly calling for extremist activities.