'Europe loses whole generations as youth among the hardest hit by record-high unemployment'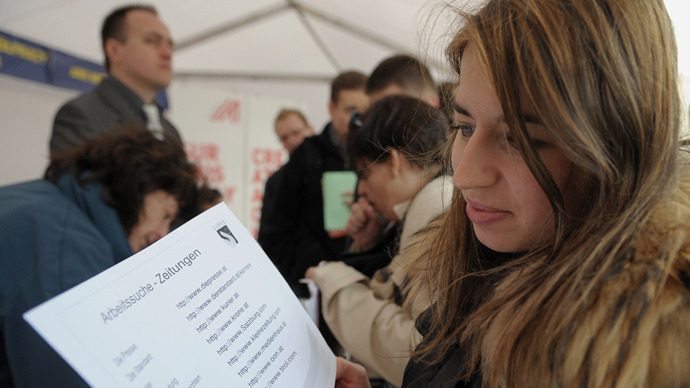 Bad economics is behind the record-high unemployment rate in eurozone, believes Saxo Bank chief economist, Steen Jakobsen. Europe needs to urgently address biggest social issue it faces as it might lose generations of youth across the block.
"The huge amount of austerity is being implemented. We have a very clear divide between the North and the South in unemployment, but also in growth. We are only three months into the new year and the growth has already been downgraded in most of the clubs mid-countries and similarly we have seen that even countries in the core like Holland now seeing growth coming off. It's a combination of bad economics, and a lack of reforms and inability to create new jobs," Steen Jakobsen told RT Business.

It would be very tempting to draw the conclusion that the austerity measures don't work, but it's how they're being implemented that needs redress according to Jakobsen.

"You need legal measures of austerity but also to work on supplies out of the economy. This means that you need to work on creating better framework for creating jobs which is normally to do with lower tax rate, lower bureaucracy, access to funding, which remains the main obstacle for growth in Europe overall. Reports show that peripheral countries pay much higher net margin price for borrowing money than anybody else. So it's extremely difficult to access the credit market and it only accentuates the issues we have at hands."
Only by 2015 will the situation in Europe likely stabilize and some improvements might be seen, Jakobsen estimates.
"We need to move from policy of 'wait and see while kicking the cane down the lane' and actually implement reforms with deals, with the ability to create jobs and that needs to come from the microside of economy and not from macroside. Everything we get right now is macro and more macro only leads to bankruptcy and not to improvement of the economy."
In the wake of Cyprus' financial drama and its bail-in arrangements based around a state-led savings grab, new hopes are being place in real estate and stocks, notes Jakobsen.
"Effectively, stocks have become a refugee for the loose money in terms of policy. So I think this needs to end, too, because you have to remember that at the end of the day the corporation needs to finds the in-customers. The in-customers among others are people who are in unemployment queue and that queue is getting bigger day by day."

Europe is one of the richest societies in the world, but to date has largely failed in getting to grips with a crisis that's lingered for years, leaving a social dilemma as youth unemployment remains alarmingly high. The situation is critical and needs to be addressed urgently, Jakobsen believes. 
"Because being unemployed is not only the fact that you lose your income but a lot of people also lose integrity in their own opinion. And that is what is sad, because we already lost one generation of Spanish youth and the problem grows bigger month by month."