'Syrian rebels too weak to target Hezbollah sites'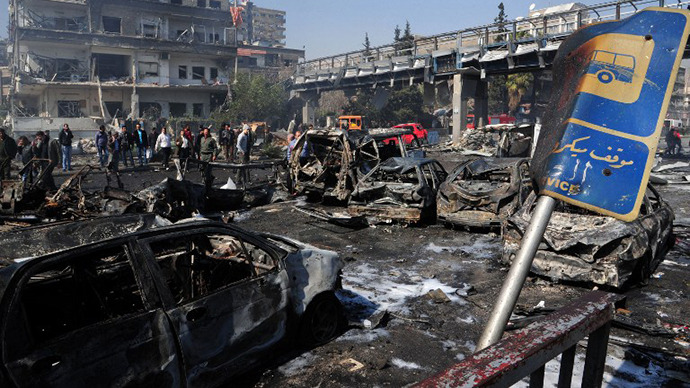 The situation in Syria has escalated lately since terror groups are trying to counter any negotiations that could lead to a peaceful solution to the ongoing conflict, strategic expert Ameen Hutait told RT Arabic.
In a new turn in the nearly two-year-old civil war, Syrian rebels warned the Lebanese political party Hezbollah to stop the shelling of Free Syrian Army-controlled territories in Syria or face consequences. The group posted its statement on its page on a popular social networking service and gave Hezbollah a 48-hour deadline to stop the attacks.
However, Beirut-based analyst Ameen Hutait believes these threats are not likely to be fulfilled and are rather linked to the events in neighboring Lebanon. RT Arabic asked the commentator to discuss the latest developments in Syria.
RT: There has been intense fighting in Damascus, bombing and casualties. How could you explain these developments? 
Ameen Hutait: The events in Damascus reflect clearly how desperate the terror groups are as they saw the peaceful solution to the crisis - which is led mainly by Russia, which is keen to achieve a peaceful solution - has started to move forward. This is because these terrorists will not have a place in any future peaceful settlement. 
That's why they have carried out these desperate attacks on the capital Damascus, hoping to stop any possible negotiations that might lead to a peaceful solution for the crisis. And also they aimed at punishing the Syrian people for their steadfastness and for their rejection of any form of fighting and terrorism. 
RT: How serious are the threats by the so-called Free Syrian Army to target Hezbollah sites?
AH: These threats are not linked at all to the Syrian crisis. Rather, they are linked to the current events in Lebanon such as the elections law. We know that these threats came from a supporter and a comrade of Ukab Saqar, member of Tayyarul-Mustaqbal (Future Current Party). Moreover, Saad Al-Hariri, who has lost control over the legislative process and is now facing an election law which will not secure majority for him in the parliament, wanted to threaten Hezbollah and send a message to him that a security chaos might take place in Lebanon in order to stop the elections. The so-called Free Army is too weak to carry out such actions.
RT: News about the participation of Hezbollah in fighting alongside the Syrian army, are they real or they are mere escalations aiming at widening the conflict?
AH: This is all fabricated lies. Hezbollah has courage enough to announce its plans and actions.  Hence, it is all fabrications.  Besides, everybody knows that there are 23 Lebanese villages on the Lebanese-Syrian border, but they are inside Syrian territory, and these villages are inhabited by Shiite Lebanese. Those Shiite Lebanese, who support the Resistance of Hezbollah, are being targeted by An-Nusra front fighters and the Free Army. These people are defending themselves; and they cannot allow the Free Army to invade them and kill their families. This would never happen.

The statements, views and opinions expressed in this column are solely those of the author and do not necessarily represent those of RT.
You can share this story on social media: