Syrian rebels threaten Hezbollah with 48-hour deadline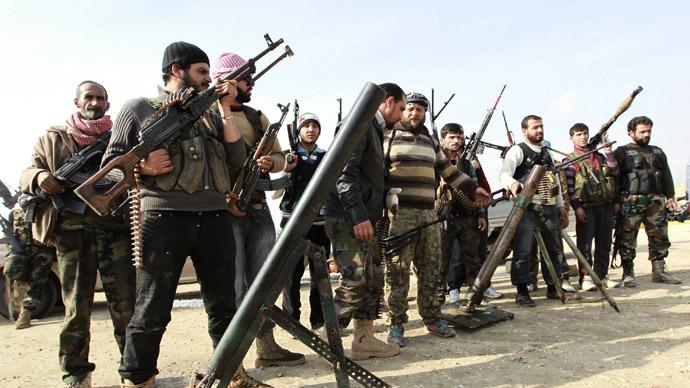 A Syrian rebel commander has said that if the Lebanese political party Hezbollah does not cease the shelling of the Free Syrian Army-controlled territories in Syria, it will face retaliation.
"We [FSA] are announcing and warning that if Hezbollah will not stop shelling the Syrian lands, villages and civilians from inside the Lebanese territories within 48 hours of issuance of this statement, we will respond to the sources of fire by our hands and eliminate it from inside the Lebanese lands," the Free Syrian Army posted on its Facebook page, according to a CNN translation.
The ultimatum was issued after at least one Hezbollah guerrilla and five Syrian rebels were killed in fighting in Syrian territory near the Lebanon border earlier this week.
Free Syrian Army (FSA) rebels shot down a Syrian fighter jet, following a government airstrike on a provincial town outside Damascus. Rebel commander General Selim Idriss told the AFP that "Hezbollah is abusing Lebanese sovereignty to shell Syrian territory and FSA positions." He claims the shelling of villages in Syria's Homs province is originating from the Bekaa valley in Lebanon, which the Syrian rebels will fire upon once the 48 hours are up. He added that his FSA fighters would bombard Hezbollah from different areas, as they are equipped with long-range weapons.

Idriss went on to say that the FSA appealed to the Lebanese President and PM, but their offices denied having any contact with the Syrian militants.
Lebanon remains split over Syria. Its Sunni-led government identifies with the rebel cause, while Shiite Hezbollah pledges support to Syrian President Bashar al-Assad. However, the party has denied sending fighters onto Syrian soil.
Political analyst and Geo-strategic expert Amine Hotait says any news about the participation of Hezbollah fighting alongside the Syrian army is simply untrue.
"It's all fabricated lies.Hezbollah has courage enough to announce its plans and actions. Besides, everybody knows that there are 23 Lebanese villages on the Lebanese- Syrian borders, but they are inside the Syrian territories, and these villages are inhabited by Shiite Lebanese. Those Shiite Lebanese, who support the Resistance of Hezbollah, are being targeted by An-Nusra front fighters and the Free Army. These people are defending themselves; and they cannot allow the free army to invade them and kill their families. This would never happen," he told RT Arabic.
This double opposition is further complicated by Israel's presence in the region, and its respective campaign against Hezbollah in southern Lebanon. Earlier on Wednesday, an Israeli drone was reportedly shot down near the Syrian border with Lebanon, according to Syrian news website Damas Post. Syrian forces reportedly shot down the Israeli unmanned aircraft over the Deir al Ashayer village near the Lebanese border. Neither Syrian nor Israeli officials have confirmed the report.

And in addition to this, Syria suspects Israel to be behind a February airstrike on a military facility outside Damascus, which killed two workers and injured five.

The now spilt-over Syrian uprising is reaching its second year, with the UN putting casualties at 70,000 and the number of displaced Syrians at more than 850,000.
You can share this story on social media: