$60 million Syrian opposition aid attempt to 'make it popular among the civilian population'
Published time: 28 Feb, 2013 18:41
Edited time: 28 Feb, 2013 21:54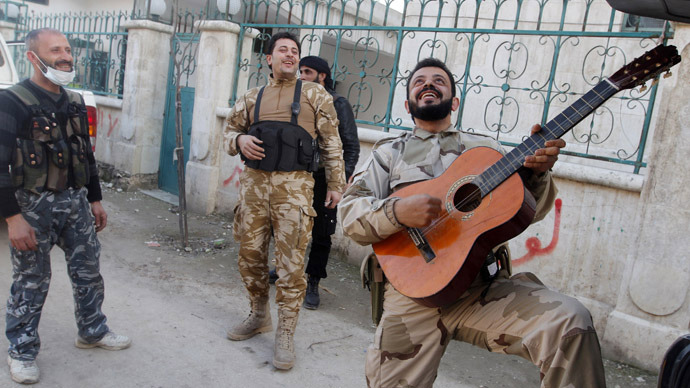 The US has for the first time provided direct aid to the rebel fighters in Syria. John Laughland, from the Institute of Democracy and Cooperation, believes the move is an attempt to prop up a movement that has failed to take root among the Syrian people.
RT:The US is promising direct steps in aiding the rebels… Is this what the opposition wants? Is this help direct enough?
John Laughland: No they want arms, they want even more help. Nonetheless, it is a very significant intervention - $60 million should not be sneezed at, and what the Americans are trying to do is to prop us a project that so far has failed. If we look back to 2011, when Hilary Clinton was calling for the overthrow of Assad, they expected the regime in Syria to fall very quickly, and that hasn't happened. However great the rebels' gains may have been, the regime is still fighting back and it shows no signs of collapsing. Instead, it is the opposition that is fractured. Famously, the Syrian national Council is a ragbag of different interests, and one of the people speaking to John Kerry, Moaz al-Khatib, has of course called for direct negotiations with the Syrian government. So, the opposition is breaking up, and there are plenty of forces in the opposition, at least according to my sources in the region, who are bitterly disappointed with the West.
RT:Do you think that Washington isn't offering more direct help because the opposition is divided?
JL: I think it's a very significant development, because after all the ordinary Syrian population is suffering very greatly from this opposition, from this so-called liberation. These paramilitary groups cannot provide any basic services, they are not the state. They don't run hospitals, they don't run the police, they don't run the water supply and so on. People are fleeing from the areas where these rebels are located. So as I say, this is an attempt to prop an opposition which is failing on its own terms. It's an attempt to make it popular among the civilian population. And I am sure that many Syrians who watched the meeting in Rome, and who have seen al-Khatib and many others hobnobbing with John Kerry will draw the conclusion that the opposition is a Western puppet, and that will surely not be good for its image back home in Syria.
RT:Will this aid actually help the rebels win the war?
JL: I don't know. I think that on paper, it is intended to make them more popular with the civilian population. We all know that arms can get to rebels and indeed are getting to rebels through indirect means, and that they are being funnelled there by American allies Turkey and Saudi Arabia. So, whether the United States itself is sending them is actually neither here nor there.
Ultimately, I do not think that a lack of weapons is their problem. Their problem is their lack of political consistency, the fact that they've made them unpopular in Syria itself, and that after all they are not a state, but a rebel group and that they can't provide living conditions for the people who have come under their power.