'Arab Spring has started to devour its own children' – Yemeni ex-President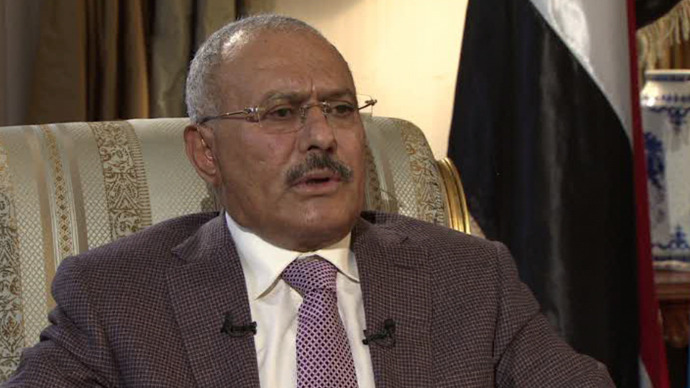 The Arab Spring was a conspiracy between Islamists and foreign powers who wanted to test their capabilities – but Islamists are losing control as they have no experience in governing, ousted Yemeni President Ali Abdullah Saleh told RT.
The 71-year-old Saleh came to power in what was then North Yemen in 1978, and presided over unification with the southern part of the country in 1990. But 10 months of public protests in 2011 forced him to hand over power in a deal brokered by the regional alliance Gulf Cooperation Council.
In his interview, the exiled former leader believes that those who have replaced him have failed to implement their promises of economic betterment, and instead his country has become a haven for Al-Qaeda militants. He believes the danger they pose will eventually force the protest movement that brought regime change in a handful of Arab states in the last two years to ebb.
RT:Mr. Saleh, some say that the Gulf Cooperation Council is the right framework to hold talks and make decisions on Yemen. Is this really the case? Or perhaps this dialogue will involve and influence the Yemenis?
Saleh: I believe that no decisions imposed from abroad will yield any fruit, and our fifty-year experience proves that. The dialogue should involve no one except the Yemenis themselves, and it should be based on the idea that Yemen's interests stand above all else.
RT:Does it mean that there is no foreign interference into Yemeni affairs?

Saleh: I know about foreign interference as much as you do. But I doubt it will ever succeed.

RT:What are the drawbacks of this government's policies?
Saleh: The current government lacks experience. It's been two years since they took power and nothing has been done. This government hasn't done a stroke of work. Every project that is currently being implemented was part of my election campaign back in 2006. Donor governments say that we need to have a program so that they could see what projects they can channel financial aid into.  We have discussed this both in New York and Riyadh, as well as at the London Conference where we talked about assistance to Arab and non-Arab countries. We said our Central Bank didn't need loans. We were ready to offer our investment projects to the donors so that they could implement them on their own. We would like this list to include projects that we were unable to finance ourselves. We said, we are going to hand them over to you – you're welcome to sponsor and implement them. That's what our policy was about. So far the current government has failed to work out a new political agenda or implement the old one.
RT:I would like now to move on to another big issue for Yemen: Al-Qaeda. There's been an on-going campaign to root them out. Up to date, according to international organizations, Al-Qaeda has retained its presence in Yemen. What do you think are the reasons Yemen has become a safe haven for Al-Qaeda?
Saleh: There are a variety of reasons. First, separatist movements in the South have created favorable conditions for Al-Qaeda. If the government were able to suppress Southern separatism, they would curb Al-Qaeda's influence. When I was at the helm, we managed to seriously undermine its power, as has the incumbent president, Abd Rabbuh Mansur Hadi. However, Al-Qaeda still holds ground because it is supported by separatists. That's why the government has to fight both separatists and Al-Qaeda.
RT:How do the separatists support Al-Qaeda?

Saleh: It's all interconnected now – it's hard to tell where Al-Qaeda ends and separatists begin. So the government and local authorities are having a hard time.

RT:So it's all a result of the chaos happening in Yemen?

Saleh: Because of the chaos the government can't use force to strike a blow against the rebels, and they say their movement is a peaceful one. Al-Qaeda uses this so-called peaceful movement to carry out terror attacks, assassination attempts and attacks on government buildings. That's bona fide subversion activity.
RT:Don't you think economic factors play a role in this?

Saleh: Yes, economic factors play their role. Various projects have been frozen, there's no official strategy on economic development of the country. The programs put forward by the previous government have not been fulfilled, and there are no new ones drafted. All these things result in what we have now.

RT:Let's talk about the Islamists. Are you concerned about the Muslim Brotherhood coming to power in Yemen, like in Egypt and Tunisia?

Saleh: The Muslim Brotherhood does seek power. Now, however, it has started to lose its influence in Tunisia, Egypt and Libya. The Arab Spring has started to devour its own children. The Muslim Brotherhood has no experience in governing, be it in economic, cultural or political sphere. All they can do is preach.

RT:Since you mentioned the Arab Spring... Some say that it happened as a result of foreign powers planning to invade the Arab countries...

Saleh: No doubt about it. Why do I think so? In the past there was a leftist, Marxist project, then a nationalistic one. They were tested. The foreign powers wanted to see what the Islamists are capable of and to test them. It's common knowledge that the Islamists hold extreme views. Foreign powers intended to control the Islamists, and the Islamists wanted to prove that they are not extremists, and, therefore, can come to power. 

RT:Seeing the crises raging in several Arab countries, do you believe the Arab Spring can spill over into other Arab countries?

Saleh: No, the Arab Spring is already subsiding. It was tested in Tunisia, Libya, Egypt, Yemen, and Syria. Now it's drawing to a close.
RT:Does it mean that the Arab Spring has failed?

Saleh: Yes, it does. What was built of sand goes back to sand. This process was brought in from the outside, and that was the reason of its failure.

RT:So the internal factors didn't play any role whatsoever in this process?
Saleh: They didn't.
RT:I'd like to turn now to the Syrian issue as the most acute and troublesome one in the entire Arabic world. Where do you think Syria is going, according to the current developments there?

Saleh: We told our Syrian brothers openly that dialogue would be the best solution for their crisis. However the opposition forces, primarily the Muslim Brotherhood, have their own view on this dialogue. The present government is legitimate, and it wants to have this dialogue on legal grounds. The external forces are playing their particular role in Syria; however the foreign intervention is doomed to fail due to heroism, perseverance and strength demonstrated by the Syrian people. Terrorism has been expanding and taking different forms in Syria.
When Shaykh Al-Bouti, member of the Islamic Thought Foundation was killed, and the Mosque, bombed, those were parts of one program by the Muslim Brotherhood, the same organization that blew up the Mosque in Yemen's presidential compound. The entire world saw it happen. This was a terrorist attack rather than a political problem which should be discussed for resolving the Syrian crisis. No matter what external factors and forces behind them are, they will never succeed. Whenever something is based on support from the outside it is always doomed to fail. So the best way to succeed in this matter is dialogue and cooperation with special UN Envoy al-Akhdar al-Ibrahimi. The opposition members should join the authorities at the negotiations table. This is something that has to happen, and that we've been calling for. We are saying that dialogue has to happen before any more blood is shed and any other difficulties arise. In spite of all the clashes, they should sit at the negotiating table anyway.
RT:Some believe that the Arab League is dead, as it has accomplished almost nothing during the whole time of its operation.
Saleh: As we've said, the Arab League should be replaced with a Union of Arab States.  

RT:What would it be based on?
Saleh: It should be a union similar to the United States or Russia. The Union of Arab States should replace the Arab League which has done nothing.

The statements, views and opinions expressed in this column are solely those of the author and do not necessarily represent those of RT.
You can share this story on social media: