'Tales of terror': Shocking slave labor conditions in Qatar
A team from the International Trade Union Confederation was shocked by the horrendous conditions migrant workers are forced to toil under in Qatar. ITUC's General Secretary, Sharan Burrow, spoke with RT about the "modern day slave state."
RT:Tell us then exactly what was seen, what did the team discover? 

Sharan Burrow: Qatar is a modern day slave state. Workers are encouraged to go there, they are invited to go and work to help build this incredibly rich state of Qatar.
They arrive to find their contracts are torn up, they're likely to be paid half the wages they were promised. We met with workers who of course aren't paid at all, they haven't been paid for some seven months. And when they actually beg their employees for money for themselves and their families back home, he'll take out his wallet and he'll give them a few dollars. This is just unacceptable. 
And of course then at the end of their contract, or if they are under abuse, or they can't work anymore for this employer, they are trapped in the country because you need the same person who owns you, the employer to actually sign your exit visa and actually give back your passport. This is just unacceptable. 
RT:Do you think we would be having this discussion if Qatar was not hosting the world cup in 2022? 
SB: Look, I think we absolutely would be having this discussion. And, well, there's only two places in the Gulf States to have this terrible exit visa, where you are literally trapped in the country. And it doesn't matter whether you're a poor migrant worker who we have of course talked to many of, or whether you are a professional. You know the man who set up Al Jazeera children's television and his wife, his professional partner, they're trapped in the country as well. It's an insidious part of the Kafala system that must be overcome.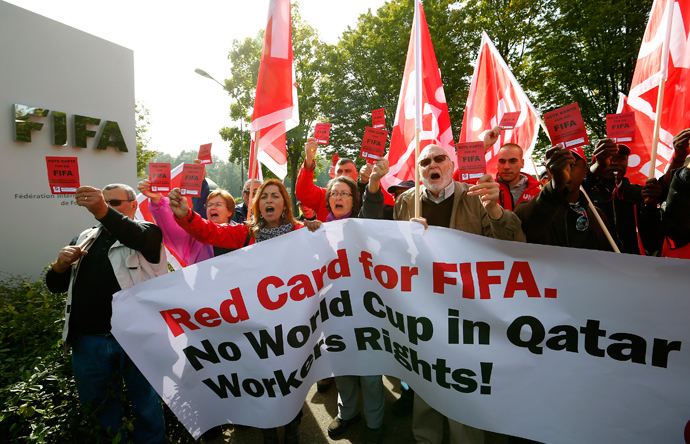 RT:How can it be overcome? You and I are talking about it, your organization is talking about it, do you think anything will happen, unless FIFA threaten to withdraw the tournament from Qatar, so you think action will be taken?
SB: I think the choice is in the hands of the Qatari authorities. FIFA will report back to their executive in March. They have already said, Sepp Blatter has said after meeting with our officials that they want labor rights in Qatar. They understand this is a risk for the game. So let's say the ILO is talking to Qatar, the International Labor Organization that sets the standards; but in the end, Qatar has a choice, they can build this incredibly wealthy nation and give dignity and rights to workers or they can build it off the back of enslaved workers. 
RT:How come one of the world's wealthiest countries would resort to this sort of slave labor, can't it afford to pay people properly and give them proper conditions, what's the root of the cause?
SB: It absolutely can afford to pay people properly. And you've asked the right question that everybody asks: Why would they want this international risk to their reputation? Why would they put major construction companies, other infrastructure and service companies in an environment where the risk is so great? 
In the Kafala system, we've already got a commitment from the major recruitment companies that they would help, that they would set up in Qatar, they would manage recruitment and employment contracts properly with employers. We know that if you put labor rights and the freedom of association in place you can have a worker's voice that will guarantee a fair and non-discriminatory wage. These choices are in the hands of the Qatari authorities and we encourage them to make the right choice.
The statements, views and opinions expressed in this column are solely those of the author and do not necessarily represent those of RT.
You can share this story on social media: