Ukraine & EU: Why some protestors are more equal than others

Neil Clark
is a journalist, writer, broadcaster and blogger. His award winning blog can be found at www.neilclark66.blogspot.com. He tweets on politics and world affairs @NeilClark66
is a journalist, writer, broadcaster and blogger. His award winning blog can be found at www.neilclark66.blogspot.com. He tweets on politics and world affairs @NeilClark66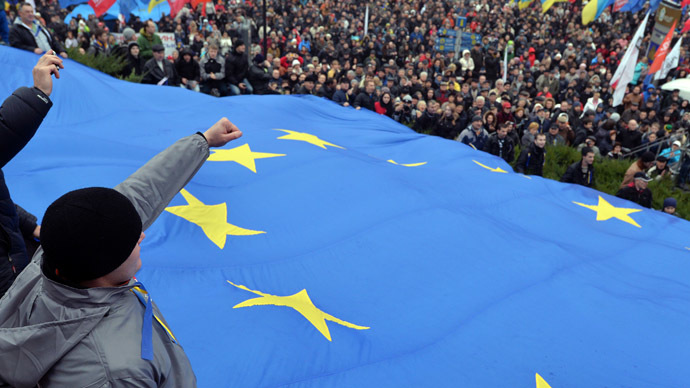 One thing's for sure: if you live in the US or Western Europe, and haven't spent the last three days locked in a wardrobe, you're probably well aware that protests against the Ukrainian government have been taking place in Kiev.
That's because western news networks and media outlets are making sure that you know about them. 'Tens of thousands rally in Kiev for closer EU ties' the Washington Post posts this AP article . 'Thousands protest Ukraine's rejection of trade ties' says the New York Times.

Leading western media outlets have not only have deemed the protests to be a major story, but their reporting makes it quite clear whose side they are on. Here's the New York Times talking about two of the protestors.
"For young people, the future is brighter with Europe," said Maria Lyskenko, 20, a student, who stood with her friend, Alyona Zorina, also 20, holding a sign that said, "Europe = Future Ukraine. Ms. Zorina said that President Viktor F. Yanukovich was acting out of selfishness and self-interest in deciding not to sign an agreement with the European Union.
 In its report on the protests, CNN quotes a Mr David Kramer of 'Freedom House', described as 'a US-based nongovernmental organization'. "He (Yanukovych) has left his country vulnerable to Vladimir Putin's threats and pressure', Kramer told CNN. That will be Yanukovych's legacy if he doesn't reverse course."
It's revealing to compare the highly sympathetic, high profile western coverage of the Ukrainian protests with the way other protests have been covered in recent years.
Last summer I was in Spain, at a time when there were massive nightly demonstrations in Madrid against the government's austerity program. I sent a text message to a friend in England to ask if he had been following events in Spain and how they had been reported back home. He said that he hadn't seen or heard anything on British television about the protests.
It's not just the Spanish protests of 2012 which failed to receive the coverage they warranted. There have been widespread anti-austerity protests across Europe in recent years, but none of them have gained as much attention as the current protests in Ukraine. Everyone has a right to protest, but it seems that some protestors are more equal than others.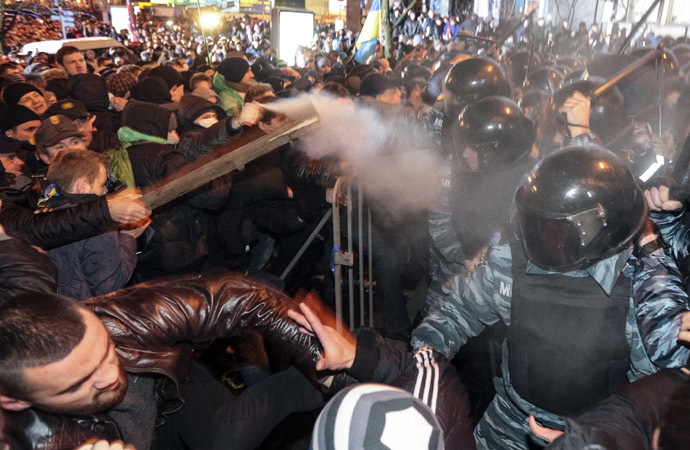 Generally speaking, we can say that if the protests are against a government the western elites don't like or it's a cause they support, e.g. Ukraine becoming a part of the western bloc and moving away from Russia, then they will receive extensive coverage. Not only that, but the protest will be reported in a very positive way, even if violence is used by the protesters. We saw a classic example of that in the way that US-funded demonstrations in Yugoslavia were reported in October 2000.
The first round of the presidential elections led to no candidate achieving 50%, meaning that a second round had to be scheduled. But some people couldn't wait for that.  A bulldozer was used to break into the Parliament and the building was smashed up and parts of it set on fire. The studios of the state television station were also set on fire and the head of state television badly beaten up. Yet these actions, aimed to forcibly remove from power a democratically-elected president before a second poll could be held in accordance with constitutional requirements, were portrayed as being 'pro-democracy' actions in the west.
Imagine if such protests had taken place in a capital of a western European country, or in a country which was a western ally? The demonstrators who used violence and burnt the Parliament would have been condemned as 'thugs' and 'criminals', and we would have had the American President and the British Prime Minister coming out to call for order to be restored. If it happened in Saudi Arabia, not only would there be fierce condemnation, but it's also very likely NATO forces would be on their way to forcibly put down the uprising. But it happened in Yugoslavia, a country where western elites were hell-bent on regime change, so the west's leaders and news channels could happily pose as being on the side of 'the people'.
The current protests in Ukraine, like those in Yugoslavia in 2000, are 'Officially Approved', but  protests in other eastern European countries which are in NATO and the EU or are US allies are not 'Officially Approved', and consequently we don't hear too much about them.
2012 saw massive anti-government rallies in Romania but like the ones in Spain, they didn't get Ukraine-style coverage. Neither did the 2013 protests in Romania against the Rosia Montana gold mining project. There have been protests against successive governments in Bulgaria for most of 2013 too, but again they've not made the impact that the Ukraine protests have.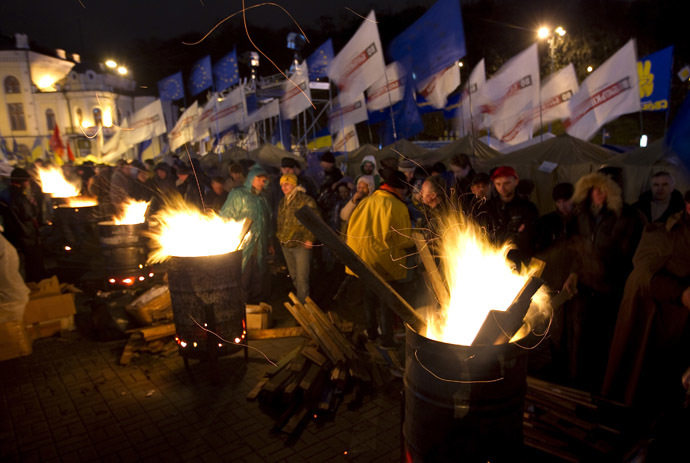 It was a similar story with the anti-government protests in Albania in 2011, and the huge protests in 2006 against the neo-liberal foreign investor-friendly Hungarian government of Ferenc Gyurcsany, which took place after an audio recording was broadcast in which the Hungarian Prime Minister admitted the government had lied 'morning, noon and night' to the electorate. Gyurcsany was one of the west's 'good guys' and the elites most certainly did not want him toppled.
Unlike the protestors in Belgrade in 2000, the Hungarian protestors in 2006 were portrayed negatively. 'Several cars near the TV building were set on fire, their flames scorching the building. The rioters appeared to control some areas on the ground floor of the block-square television building,' recorded the Washington Post.
The use of the word 'rioters' is interesting; start a fire at Serbian television during protests in 2000 and you're hailed as an 'opposition supporter',  but start one outside Hungarian state television in 2006 and you're a 'rioter'. This shows us that it's not the act itself that determines the label, it's where you carry it out.
On 5 November this year we saw the 'Million Mask March' protests in more than 400 cities across the world, including London, but the best coverage of the UK demonstration was provided by RT and not UK networks. RT did cover extensively anti-government demonstrations in Moscow, interviewing protest leaders- but western news channels, alas, don't do the same when the protests are in their countries.
It's not hard to understand why. The last thing western elites want is for people to be watching, night after night, scenes of people protesting about austerity, government corruption and corporate abuse in other western countries.  That would only encourage people to take to the streets themselves. British people, watching scenes of Spanish protestors in the streets in Madrid in 2012, would have been inspired to do likewise in London. And Britons who watched masked people march through London on 5 November and saw banners declaring: 'The Corrupt fear us. The Honest support us. The Heroic join us,' might decide to check up on the 'Anonymous' movement and do the 'heroic' thing and join it.
When there is coverage of domestic protests which challenge elite interests, it is nearly always negative.
The Occupy London movement's camp at St Paul's Cathedral, which was cleared following a court battle in 2012, was widely attacked by elite commentators. Far from welcoming the protest, Conservative MP Mark Field declared, 'The Corporation of London needs to work with other landowners in the City of London to see that we don't see any repeat of this sort of protest in the Square Mile.'
For the western elites, anti-government street protests and demonstrations are wonderful things when they happen in Kiev, Minsk or Tehran. However, they're not quite so wonderful when they happen in Madrid, Bucharest or London. Then it's a case of: 'There's nothing to see here. Please disperse! And keep your eyes glued on Kiev! '
The statements, views and opinions expressed in this column are solely those of the author and do not necessarily represent those of RT.