America's 'client' state: Is it time for Pakistan to shift foreign policy?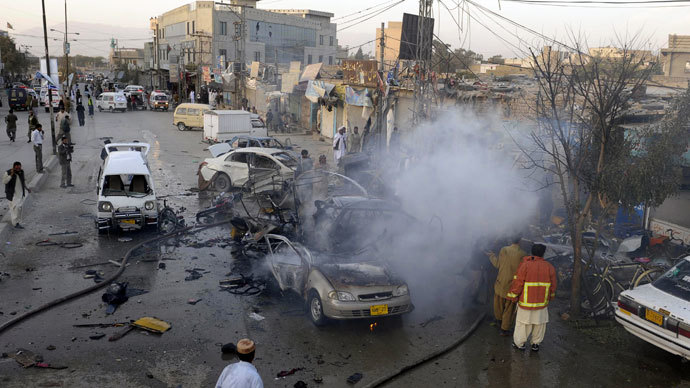 Here are few of the highlights of Pakistan's involvement in the US led war on terror that has dragged on for more than 12 years: Over 40,000 deaths, $80+ billion in losses, growing insecurity and mounting fear among its citizens.
The war that was initially started to target militants in Afghanistan is haunting innocent civilians not only in Afghanistan, but also Pakistan. To make matters worse, the drone attacks on Pakistan's frontier are also turning people further against the United States and the Pakistani government. They also have the effect of assisting the militants with their local recruitment drives.
So, for how long will it go on? And how many more innocent civilians should Pakistan lose to terrorism? And above all, is an alliance with the USA a benefit to Pakistan at all?
These are the questions currently being asked by the people of Pakistan. The conditional Coalition Support Fund (CSF), which Pakistan receives for assisting the USA, is peanuts compared to the losses incurred in this war. But even this CSF has, on a couple of occasions, been released with stringent conditions making it a charity, rather than support.
These scenarios rather than making Pakistan look like an ally, portray it as a mere "client" state for America. The implications and signals are simple for Pakistan; they point towards the need for a shift in the country's foreign policy: a policy that weighs the benefits of immediate neighbors and regional players against the losses of this transatlantic alliance.
Particularly with the United States moving out of Afghanistan in 2014, Pakistan has to reconsider its alliances for the greater interest and stability of the region. After all, the Taliban and Al-Qaeda's main motive for its activities against Pakistan is the Pak-US strategic alliance in this war.
Important regional stakeholders, such as China and Russia, are keenly interested in post 2014 developments in Afghanistan. This interest isn't confined to Kabul, but also extends to Central Asia where both Russia and China have valuable strategic assets. Afghanistan's neighboring countries such as Tajikistan, Uzbekistan and Turkmenistan make it an area of concern for Beijing and Moscow, because any terrorist outbreak post 2014 could harm their interests in the Central Asian region.
With these concerns resounding, Pakistan has an important role to play. Not only must it tackle its own militancy problems, but the country also has to ensure that its land is not used for terrorist activities, both locally and abroad, in such places as Afghanistan, Russia, India and China.
Farooq Yousaf for RT
The statements, views and opinions expressed in this column are solely those of the author and do not necessarily represent those of RT.