​'It's about democracy': EU delegation urges Ukraine protesters to seek referendum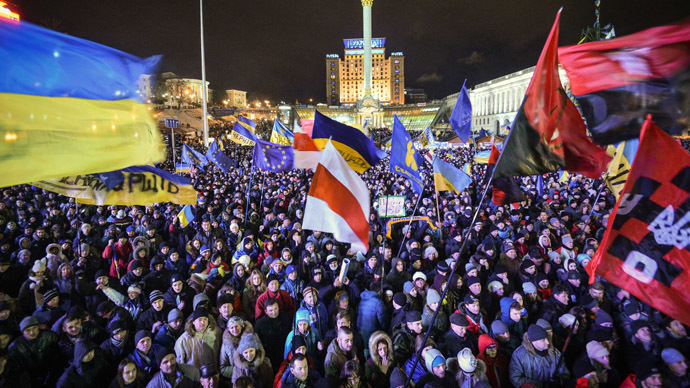 Ukraine should hold a referendum to decide its political course, Alexandra Thein, the German MEP from the EU-delegation to Ukraine told RT. The politician believes it is normal to support protests in the streets, if it doesn't incite violence.
A delegation of Members of the European Parliament descended on Ukraine on Saturday, to meet with the opposition leaders and address the crowd in the streets of Kiev, fueling the protest further.
Jacek Saryusz-Wolski, a European Parliament member from Poland expressed full support for the protesters' demand for an early election, calling the situation "unacceptable" when "the choice of the majority of Ukrainians, millions of people, is being put aside."

However, speaking with RT, German MEP Alexandra Thein, said that the "unofficial" visit of the European politicians was all about democracy and the Ukrainian people's desire to associate with Europe, and not the ousting of a democratically elected government which just recently survived a no confidence vote.

RT:We've seen scores of EU politicians come mingle with the protesters in Kiev. Why aren't they letting Ukraine's elected leaders democratically decide?

Alexandra Thein: I think it is not against Ukraine's leadership. I think they just show their solidarity with the protesters and I think we want the Association Agreement with the EU signed and therefore we assist them.

RT:Why aren't Euro MPs meeting pro-government protesters? Or talking to the legitimate government?

AT: I'm sure that they also tried to have the meeting with the government, this is normal. If the official delegation is going there, it is normal to have meetings also with the government. But I think this is a delegation of some MEPs. I think this is not a really official delegation.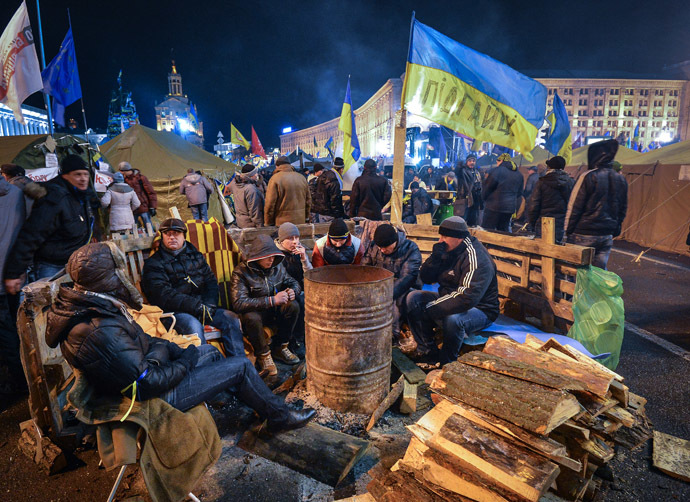 RT:Ukraine's President is on a trip abroad. Will direct negations be happening now between MEPs and Yanukovich?

AT: I think we are always there to have a bridge between the EU, but also to take into account the wider interest of Russia. Perhaps, this is at the moment a problem that the government does not see this enough that we also take into the account the wider interest of Russia. I think they are there just to show that we want Ukraine to be a long term member of European Union. And I think the majority of the people of Ukraine want to be a member of the European Union, in the long, long term. So it is now just about signing this Association Agreement and nothing more.
RT:But there is big groundswell of people in Ukraine that don't want to be part of it as well especially in the East. What is your argument to them?

AT:As I know, I think 27 percent of Ukrainian citizens don't want to be members of the EU or don't want to live in a closer relationship with the EU but this is not a majority.

RT:There is still a lot of people though…

AT: Yes it's a lot of people, of course it is a lot of people but democracy always means the vote of the majority, so perhaps it would be the best thing at the moment to do a referendum who wants to have a closer relationship with the European Union and who wants to have a closer relationship with Russia. But I think we should not now get into these big, big problems to decide for Ukraine whether to be with EU or whether to be with Russia. I think, like it has been in the last years, you can't have good relationship to both sides. It is going. It is just the question where you want to have your economically closer ties with. This is the question.

RT:You're talking about democracy but the government has just survived a vote of no confidence, surely democracy has spoken, hasn't it?

AT: Yes I think that so many people, you just told me that 1 million are now on the street and even it's quite cold. I mean they show what they want to. I think they want to have this Association Agreement signed. At the moment this is just a question of signing this Association Agreement and in which direction to go. This is the question at the moment. And no more, this is not a final end or something.

RT:In May this year, there was a public protest in Turkey, where tear gas was used every day - yet no Euro MP went to Ankara to support them. In fact, there was little media coverage. Why the different reactions?

AT: No, this is not true. I can really tell you there have been many MEPs, many members of the European Parliament who went there, and who went and also spoke with the opposition. This is normal.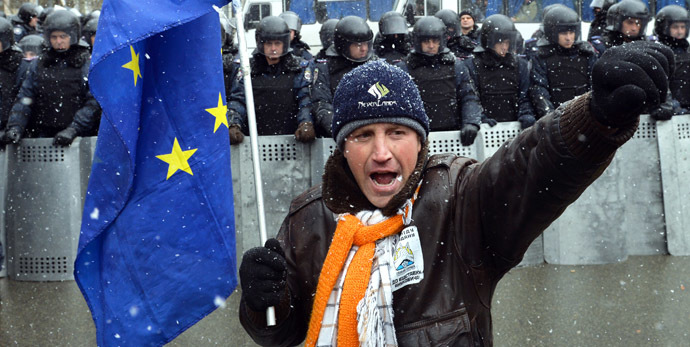 RT:Well it certainly seemed low-key…

AT: This is totally normal. It is totally normal that we go there and we speak also with the opposition. But of course we also try to speak with the government. We always speak with both sides, we speak with everybody. It is not only to speak with one side.

RT:And what about the economic output? In a short term it is going to cost an awful lot of money, Ukraine is really not in the position to do that at the moment, so practicalities surely come into this at the moment, don't they?

AT: Yes, but why it costs a lot of money? I mean this is a problem why?

RT:To modernize, to join the club…

AT: I think that if Russia would take a normal position, of just not to take this so serious, I think it would just be a normal relation, a closer relation between Ukraine and EU but it would not have this big economic impact that it will have now. I mean this is just now too much excitement and of course violence is never the way.

We don't want violence, of course not. We don't want this. But people have the right to go to the streets and if they have the feeling that the politics of their country and that the government is going in the wrong direction, perhaps because there's too much pressure on the government, that they have the right to go onto the street and protest against this. Of course without violence.
You can share this story on social media: