'Major crude oil importers won't deal with Libya's militia'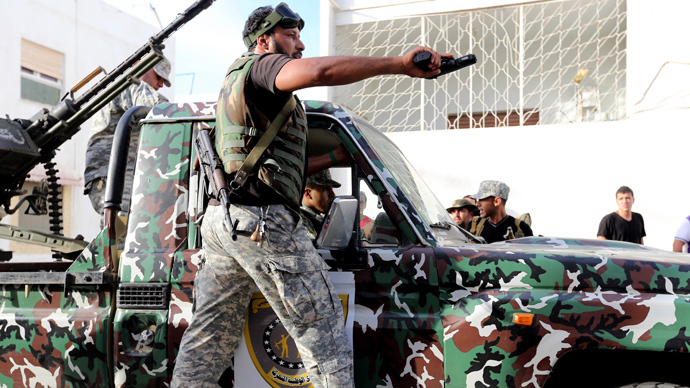 Libyan militia won't be able to successfully control the assets of the country's oil production, Mamdouh Salameh, World Bank oil expert, told RT.
Moeen Raoof, Defence consultant, believes there is nothing Tripoly can do about separatists who declared an autonomy in the country's oil-rich eastern provinces. "The central government cannot rule beyond the hotel lobby, where the Prime Minister stays in," Raoof told RT. There will be instability for the next 10-20 years unless they come up with solution, he said.
RT:  The country's oil output has plummeted to about 10% of its previous capacity - what are the immediate and long-term effects of this drop?
Mamdouh Salameh: Actually the price of oil has dropped by $2 to $3 only, but that is natural because oil is connected and receptive to political developments. However, the overall trend for the future of oil is upward. Its drop of $2 to $3 is nothing. The demand for oil is going up and that's why I'm saying the trend is ascending. So I wouldn't be surprised if we see the price of $120 to $130 by 2015. However, the loss of 2 or 3 dollars in the price of oil seems to be welcomed by the global economies, although it won't have a very great impact as yet.
RT:In terms of what's going on in Libya itself and in terms of who actually controls the oil, we do hear that breakaway militias have formed an autonomy in Libya's oil-rich east. They want to export the crude oil for themselves. Do you think they will be able to succeed?
MS: No, they will not. Libya is a different category from the other Arab Gulf producers. For instance, since last year when the troubles started in Libya, Libya virtually ceased to be an oil exporter. This year they are not even able to satisfy their domestic needs which amounts to around 400,000 barrels a day - they are producing 200,000, which is 50% of their needs. And they used to export 1.25 million barrels to Europe, they are not exporting anything.
The militia or the armed gangs want to control the assets of oil production so that they can finance their activities. They will not succeed and they will also have to repair the damage to the oil industry in Libya. Furthermore, the major importers like Italy, France and Germany will not deal with them; they would rather buy oil from somewhere else but not deal with the militia.
RT:Given the huge economic problems Libya is now facing, particularly with reference to oil and gas revenues, are there any economic alternatives for Tripoli?
MS: There is no alternative because the Libyan budget depends to the tune of 85 percent to 90 percent of revenue from oil and gas export. The Libyan economy as a whole is dependent to the tune of 90 percent to 95 percent on the revenue from oil and gas. Since there is no gas and oil revenue, no export, so there is no revenue at all. The Libyan government is in real mess because they cannot issue the budget without knowing how much oil they will be able to export and what revenue they will get.
The statements, views and opinions expressed in this column are solely those of the author and do not necessarily represent those of RT.