Latin America on brink of tough post-Chavez geopolitical battle
Venezuela was the main country opposing US interventionism in Latin America, according to Adrian Salbuchi, international consultant and author. He told RT that the US could now redouble efforts in its struggle for influence in the region.
RT:Hugo Chavez was a huge figure in South American politics - how will his death impact the continent?
Adrian Salbuchi: From a continental point of view of South America and the whole of Latin America, he was a strong supporter of the sovereignty of the foreign policy of Latin America in general. And Venezuela gave a very good example by putting a brake on US interventionism within the country and thereby the entire region and maintaining very fluid relationships with countries that are against the American foreign policy in general and that of its allies.
RT:We see Vice-President Maduro apparently taking charge of the country. Yet according to the constitution, the head of parliament should be leading the country. What is going on?
AS: New constitution of Venezuela... requires the president of the National Assembly, a gentleman by the name of Diosdado Cabello, to take over and then in 30 days new elections have to be called. Now Nicolas Maduro will be the Chavez's party candidate, and he certainly stands [a] good chance of election, especially with the country's emotional state right now, but Chavez had huge enemies within Venezuela and, more importantly, outside Venezuela. So unfortunately the United States in the first instance and other countries such as Israel and countries in Western Europe will do all they can to support the opposition candidate, Henrique Capriles Radonski, who came in second in the presidential elections and who will definitely have all the financial, political and media support of the global power structures against Mr. Maduro as the Chavez candidate.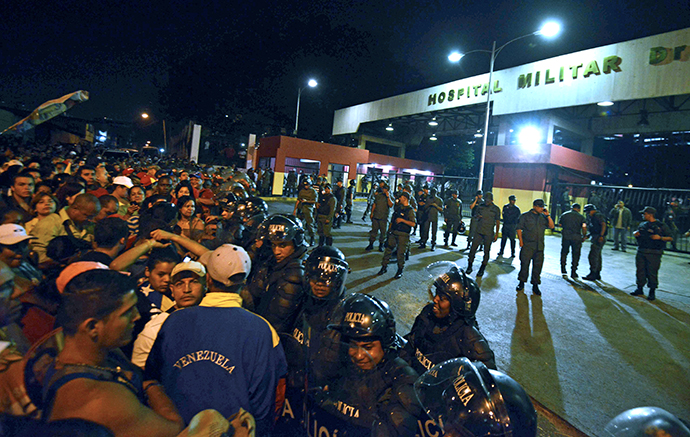 RT:Are we looking at a power vacuum – isn't there the possibility of unrest?
AS: There's a possibility of unrest, unfortunately, but not so much from the inside forces as from outside forces. The army has given full support for Mr. Maduro and Mr. Maduro is a liked person with Venezuelan public opinion. The problem is that we all know too well that the United States and other Western powers have developed the engineering of social unrest and even civil war in other countries as part of their global war effort. We've seen that in Libya, we've seen that in the Arab Spring, we are seeing that right now in Syria. So if American forces were to decide to really whip up social unrest, even civil war in Venezuela, well, they have all the means to do that. And two American Air Force officers were thrown out of Venezuela only today because of the fact that they were already starting to conspire against the ongoing government in Venezuela, especially at a difficult time as this.
RT: What about a successor - many have said the New Bolivarian Revolution was held together only by Chavez's charisma - will Maduro be able to fill those shoes?
AS: I tremble to think, because the United States is definitely trying to make very, very strong inroads throughout South America. Hugo Chavez's Venezuela was the main country really opposing American interventionism, because the other two countries are Bolivia and Ecuador which are much weaker. And even my own country of Argentina has a double standard, so to speak. They sometimes are for the global power elite, sometimes they make believe the Kirchner government goes against it.
So I think America will now double its efforts and it will join forces with the countries that it already has under its way - Mexico with Pena Nieto, Colombia with President Santos even Chile with President Pinera, who are all pro-UK and pro-US, so I think we are going to see a geopolitical battle being waged in the Northern part of South America, around Venezuela. And it will be a very tough one, a very difficult one, and one that not only holds for the future of Venezuela, but for the future of the entire Latin American continent.
The statements, views and opinions expressed in this column are solely those of the author and do not necessarily represent those of RT.
You can share this story on social media: