'Killing of Kurds' in Syria: Not genocide, but a proxy war for power in the region
Al-Qaeda slaughtering hundreds of Kurds in Syria is a struggle for power in the region, as Al-Qaeda's wannabe "Islamic state" will not tolerate any other power there, German journalist Manuel Ochsenreiter told RT.
RT:Syria's rebels reject accusations of ethnic cleansing against the Kurds. Who is behind the reports of civilian's deaths and kidnappings?
Manuel Ochsenreiter: These are really disturbing reports, which come now to us from the Raqqa district in Syria, but these are not the first reports when we hear about the activities, especially the activities of the Islamists Al-Nusra Front, which is a branch of Al Qaeda. We had the execution of a 15 year old boy by Islamists militants in Aleppo because of believed blasphemy.

We have many of those cases where these Nusra Front militants are killing, and where they really commit very horrible war crimes. I don't think that what is going on now with the Kurdish militants is the beginning of a new genocide. I think this is now a struggle for power in that region.

We have to see that the Nusra Front and the allied Islamists fighting troops gain power in Raqqa. A friend from Damascus told me that Raqqa is called in Damascus Little Kandahar because they are so close to the Taliban. The Nusra Front is defending its power there and they don't accept anybody else's participation in that power. This is what is going on.

We see also this is what is happening on the Syrian battlefield and has nothing to do with something like a civil war. This is a very clear proxy war what we see here, and it has nothing to do with the popular uprising against the Syrian government. We see that the Syrian battleground is somehow a hotspot for Jihadists, for criminals, for terrorist from all over the world who join Islamism fighting groups who join especially the Nustra Front in their fight for establishing a sort of Al Qaeda state, especially now in North Syria.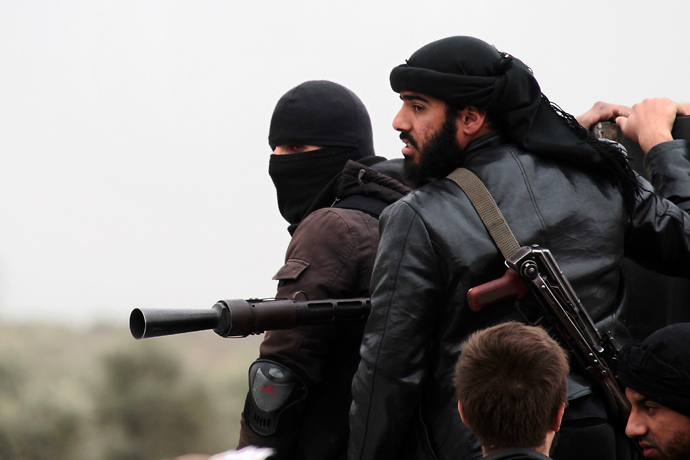 RT:Proxy wars, power struggles, Al Qaeda is expected to declare an independent Islamic state any day. What will that mean for Syria and for the Kurdish minority in particular who are affected by this?
MO: Of course for the Kurdish population this is a very dangerous plan because the Kurdish population tends to have a sort of cultural and a political autonomy and self-defense, but if there is this Al Qaeda state, or this wannabe state, it is not a state it is a sort of entity that will not tolerate any other power there. What we see with that massacre, and we have to say very clear what a massacre this was. The reports say now 120 children and 330 men and women were slaughtered by Al Qaeda fighters. I think this is a very, very, strong signal what they want to do and how they deal. We see that we have to deal with war criminals on that side, but we shouldn't forget when we mention the word "proxy war". We shouldn't forget two important facts, we know already about the Al Nusra Front.  Fact number one is a former Al Qaeda member stated that the leader of Al Nusra Front is working closely with the CIA. We have other information from the Kurdish Popular Defense units who claim that the Nusra Front is also organized and supported by Turkish intelligence and I think this is not a coincidence when we know how the Kurds are treated in Turkey.
RT:Should we expect any international reaction to the allegations of genocide against the Kurds in Syria?
MO: I don't expect any international reaction except oral protests right now. I don't think so, because their international interest especially the geopolitical interests of Turkey which is a very important NATO member. We shouldn't forget that NATO troop, also German troops are at the Turkish Syrian border with Patriot rocket systems pointed at Syria. We have Turkey on the side having an important conflict. I don't think there will be any serious international reaction.
A tom cat has become the latest staff member of a children's library in the city of Krasnodar. Kuzya has the official title of librarian assistant. He's involved in shows for the children, where he takes on the role of Pushkin's cat. Kuzya spends his nights outside the library, and staff say he sometimes fails to appear for work. However, since he joined the library the number of visitors has increased.
The statements, views and opinions expressed in this column are solely those of the author and do not necessarily represent those of RT.
You can share this story on social media: