Disturbing report alleges killings of 450 Kurds in Syria
Unconfirmed reports have emerged detailing a new massacre in which 450 Kurds - including 120 children - were allegedly slaughtered by al-Qaeda-linked rebels fighting against the Syrian government. The report has sparked international concern.
According to Iranian TV channel Al-Alam, militants from the Jabhat al-Nusra Front attacked the town of Tal Abyad on Monday, killing 120 children and 330 women and elderly near the Turkish border. 

The channel also ran horrific uncensored footage from the scene - the authenticity of which can't be independently verified at this moment. For ethical reasons, RT will refrain from airing the video.

Neither the Syrian government nor the opposition has confirmed the report. RT contacted a number of sources, including several Kurdish interviewees, who testified that increased fighting has been taking place in their areas.

"The al-Nusra militants and other rebel forces surrounded the village," Yasin Tarbush, the relative of one of the Kurdish attack victims, told RT. "They started going door to door, entering every house. If there were any men, they killed them and took the women and children hostage."

Commenting on the reports, the UN Human Rights office in Geneva said they are investigating and if it confirms them, would consider it a war crime and seek that perpetrators are brought to justice. 
"Armed groups also have responsibilities under international law and should not think that they are immune from prosecution," Navi Pillay said in a statement.

#Lavrov: There is no place for double standards when dealing with terrorism

— MFA Russia (@MFA_Russia) August 7, 2013
When questioned by RT, State Department spokeswoman Jen Psaki said the US "would always be concerned with any reports of attacks on civilians or any others of this kind" but otherwise had little to add.
"I'll have to look more closely into that specific report," she said at the Wednesday briefing. "You are probably very familiar with how we view al-Nusra and we've designated them as a terrorist organization. We have taken many steps to ensure to our best ability that aid and assistance of all kinds is going to the moderate components of the opposition – and that's the message that we have conveyed publically and privately. But we certainly are aware of the continuance of the extremist elements."
Russia called on the UN Security Council to condemn acts of terrorism in Syria in unambiguous terms.
"We saw before some Security Council members reluctant to condemn terror attacks in Syria on the grounds that – as cynical as it sounds – those attacks are being carried out by people fighting against an obsolete regime," Russian Foreign Minister Sergey Lavrov said. "This position is absolutely unacceptable. No double standards can be applied to terrorism."
Islamists on offensive
RT's Irina Galushko spoke to Kurdish journalist Barzan Iso, who confirmed that "Al-Qaeda started attacking Kurdish villages on the 19th of July. After these attacks they kidnapped many Kurds. We don't have a specific statistic," he said, alluding to the fact that many of the areas are dominated by Jabhat al-Nusra and al-Qaeda-linked militants who do not allow Kurds to gain access and investigate.

Iso explained the Kurds' non-allegiance to either side of the Syrian conflict: "Since the beginning of the events in Syria, the Kurds tried not to be a part of the civil conflict…there are non-Muslim Kurds, as well as Alawite Kurds – that's why they tried to be away from [it]. But now, some of the opposition groups are using al-Qaeda and al-Nusra to attack Kurds. The main cause is that they have the mentality of radical nationalists. That's why they are using al-Qaeda as an umbrella to attack the Kurdish people." 

Iso claims that when he spoke to members of the Syrian National Coalition, the political component of the West-backed opposition forces, they readily blamed the Islamist attacks against Kurds on the Kurdish drive for independence. Al-Nusra Front, an offshoot of an Iraq-based Al-Qaeda branch, is seeking to claim Kurdish territories for an Islamist state encompassing parts of Iraq and Syria, which the group wants to create.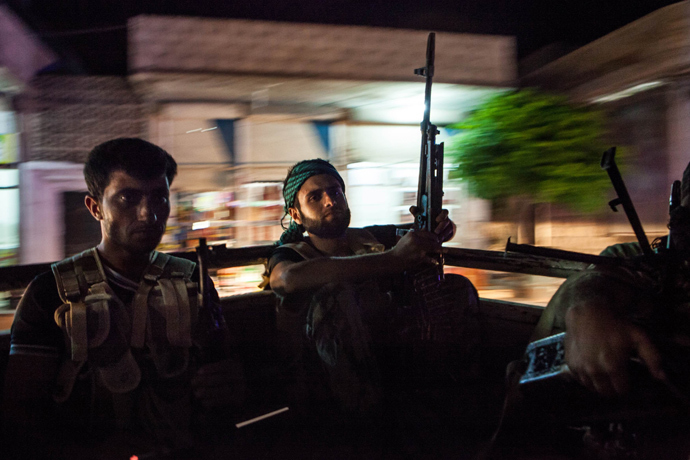 The report follows other instances of heavy strife between ethnic Kurds and al-Qaeda-linked militants in historically Kurdish-settled northern and north-eastern Syria.
Kurdish neutrality stance strained
The Kurds are the largest ethnic group in the world without a state of their own. They currently live in the bordering territories of Syria, Turkey, Iran, and Iraq. The idea of carving an independent Kurdish state has numerous supporters among Kurds, with host countries trying for years to oppose secessionism.
In pre-war Syria, the Kurdish population was denied some of the rights that other ethnic groups enjoyed. However in the early months of the conflict the government of President Bashar Assad gave a number of concessions to the Kurds, including granting citizenship to thousands of them.
Since then, Kurds have been trying to distance themselves from the focus of the civil war, forming militias to defend their territory, but otherwise not supporting any side. In recent months radical anti-Assad groups have been increasingly attacking Kurdish towns, which, according to some reports, has given Kurds an incentive to side more with the Syrian government.
On July 30, a Kurdish militia has announced its mobilization against al-Qaeda-linked militants in north-eastern Syria after the assassination of Kurdish opposition leader Isa Huso.

"We call on the Kurdish people…to step forward…anyone fit to bear arms should join the ranks of the Committees for the Protection of the Kurdish People (YPG) and to face the assaults of these armed groups," the YPG statement reads.
The Suriya al-Ain news portal claims that the terrorists are executing Kurdish prisoners as "revenge on the Kurds, for defeats inflicted on them." One week ago, al-Nusra militants attacked two Syrian towns, taking around 200 civilians hostage. It was reported that all of those abducted came from the families of soldiers of the Kurdish Brigades who were previously part of the opposition Free Syrian Army, but later defected to the Kurdish Self-Defense forces.

The Syrian Civil War – in which rebels are trying to topple the Assad regime – has been raging since 2011, with more than 100,000 people killed and nearly 8 million displaced, according to UN estimates.
Arming Al-Qaeda
Many Western countries and their regional allies, including Turkey, Saudi Arabia and Qatar, voiced their support for the less-radical anti-Assad forces. But the reality on the ground is that Al-Qaeda-linked jihadists, including Al-Nusra Front, are dominating the rebels.
The latest example is the takeover of a crucial military airport in northern Syria on Tuesday by Islamists-spearheaded forces. The airport, which had been locked down since October, was taken in a two-day assault by a coalition of nine rebel groups, including some supported by the West, according to a McClatchy report.
"The victory again underlines the leading strategic impact being played by militant Islamists, particularly in northern Syria," Charles Lister, who is monitoring the fight for the London-based military analysis group IHS Janes, said. "Every major offensive in northern Syria this year has been announced, led and coordinated by Islamists."
On numerous occasions, Western politicians have emphasized that they do not want extremists running rampant across the Middle East and gaining access to foreign arms supplies as they did in Libya and other recent conflicts. However, this is what is happening in Syria, Colin Cavell, a political science academic at Bluefield State College in West Virginia, told RT.
"Right now most of the American people are very unclear about exactly what is going on. Our media kind of keeps it down low on one end, and on the other end it says we are supporting moderate democratic opposition, which is hilarious to anybody who is following this. We are supporting Al-Qaeda-linked Jihadists, who are massacring people," he stated.
Despite calls by the West to arm Syrian rebels in their fight against Assad's government, there is still no accurate way of distinguishing non-radicalized opposition forces from Islamist militants determined to create their own sovereign state in the Middle East.
You can share this story on social media: