Discuss bitcoin, China's gold market and more with Max Keiser at RT's Google+ Hangout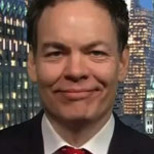 Max Keiser
Max Keiser, the host of RT's 'Keiser Report,' is a former stockbroker, the inventor of virtual specialist technology and co-founder of the Hollywood Stock Exchange.
Looking for enlightenment and a change of scene? If you're tired of sitting at home and merely reading stuff about the economy, join RT's Google+ Hangout with Max Keiser and Stacy Herbert!
Our guest will be Jan Skoyles, market analyst for bullion broker The Real Asset Co. It's your chance to get answers on the most acute questions, namely bitcoin, China's gold market and US fiscal policy.
We'll be taking your questions on December 6 on RT's Google+ page and Twitter with hashtag #keiserhangout.
If you want your questions answered - join us!
That's Keiser Report Google+ Hangout, December 6 at 16:00 GMT (11:00 EST, 17:00 CET). See you there!
The statements, views and opinions expressed in this column are solely those of the author and do not necessarily represent those of RT.