'Only way to end Gitmo strike fairly is to set cleared inmates free'
As the Guantanamo hunger strike enters day 100, the inmates' lawyers have revealed details of abuses their clients are subject to, while the prison authorities keep denying they are resorting to practices violating human rights.
A fair trial would have been a natural step. To have all of the parties heard and resolve the crisis, believes Clive Stafford Smith, founder of legal group Reprieve, and an attorney for several detainees in the Guantánamo Bay camp.
Follow RT's day-by-day timeline of the Gitmo hunger strike.

RT spoke to the activist who was first to reveal some of the harsh methods allegedly used in Guantanamo, including degrading body searches, which inmates have to undergo just to phone their representatives.

RT:Why haven't the U.S. authorities tried to negotiate an end to the hunger strike - instead of using controversial tactics like force-feeding or denying drinking water?
Clive Stafford Smith: Of course in order to negotiate an end to the strike, we have to give justice to these prisoners. And we are talking about 96 of the 166 prisoners, who have been cleared for release, and that's 52 per cent of them, including most of the people I represent. There's only one way to end this strike fairly, and that's to take prisoners who've been cleared for release and set them free. And Shaker Aamer, the last British resident, he could come back to London tomorrow if only President Obama would show him redemption and use the National Defense Authorization Act to let people go free. That's the only way to solve this problem.
RT:Is it not possible though, because Washington is stuck between a rock and a hard place. Here we have people who were scooped up from places like Afghanistan, put into Guantanamo Bay. Even if they weren't radicalized before they arrived, they may have become radicalized because of their prison experience. 
CSS: I've been radicalized, I'm radicalized for justice not for violence. And that's true for all the people I've represented. Every single prisoner, who's been set free in Great Britain, and there's been 14 of them, has behaved impeccably, when they came back here. Unless you think it's wrong to go around telling the truth, giving speeches and writing books. None of them have done any criminal offense, save for one who got a traffic ticket one time. And it would be so perverse if we argued that we can snatch innocent people, abuse them for 11 years and say, because we've abused them, they might hate us, therefore we keep them forever. That's ridiculous.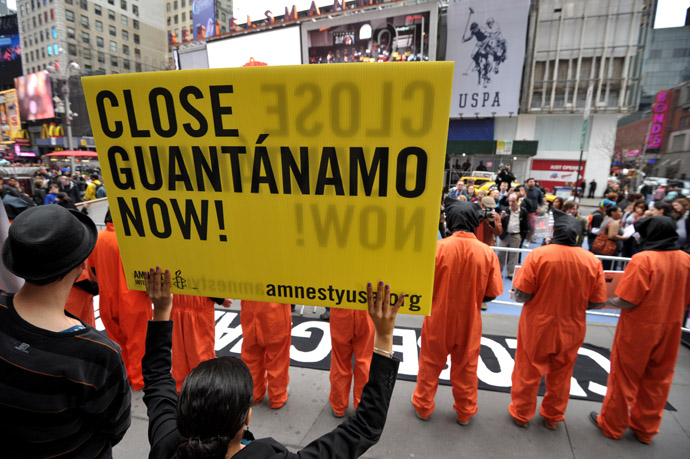 RT:The hunger strike has gone on for 100 days. It is a long time without food. What can you tell us about the health conditions of your clients?

CSS: Well I can, and I'm actually glad that a standard operating procedure for Guantanamo Bay was leaked this Monday. I have a copy of it. It's not classified. And it corroborates everything my clients have been telling me about how the force-feeding is being done. And you know what's really worrying about this is General Bantz Craddock of SOUTHCOM - back when they changed the protocol to make it more painful for prisoners - said they were doing it to make it "inconvenient" for the prisoners to keep on hunger striking. In the earlier days they used a smaller tube up one's nose, it's a 120cm long, and they would leave that tube in for weeks at a time. Now what they are doing is they are using larger tubes and they are sticking those up one's nose twice a day and pulling them out again.
RT:You revealed that Guantanamo detainees undergo full body cavity searches before they can contact their representatives. Camp authorities claim everything they do is lawful and justified.  Isn't this just normal practice in prisons?
CSS: No, it's not normal practice. But let's face it – when my clients are coming to have a telephone call with me they can't smuggle anything on a telephone line. And so the idea that they threaten the prisoners with full body search, and I won't go into the really graphic part, but it's basically a sexual assault, is just a threat to try to get them not to talk to us and frankly the reason for this is fairly obvious. That there's been an awful lot of information coming out of Guantanamo Bay that doesn't suit the authorities. Now they say what they say is the truth, we say what we say is the truth. Of course, the natural thing to do about this is to have a proper trial, but we are not allowed one of those. I'm confident that my clients are telling me the truth and just want that truth to come out of there.

RT:How long has the practice of body searches been in place and has it prevented inmates from contacting their lawyers?
CSS: The threat of the anal cavity search only came about ten or twelve days ago, and yes indeed it has. Last Friday two of my clients refused to have a call with me for the simple reason that they didn't want to go through that process. I had one of the other lawyers from Reprieve, who was at the base last week and twice prisoners didn't want to come out for a visit, because of what they've been threatened with. This is just not civilized. I speak as an American when I say we should not be doing this sort of thing. We are upholding the rule of law, not trying to suppress it. 
What's sad about it is of course people at Guantanamo have studied what Muslim man are particularly sensitive to. And so one thing that obviously a conservative traditional Muslim male is not used to is having a stranger basically assault them sexually. And this is something which is far more humiliating for someone from Yemen, than it would be for someone perhaps from America. And these things have been studied rather carefully, so it's a great tragedy that the US has used studies on how to be sensitive to Muslims and turned these around to use them to humiliate them.