Gas masks on! After eight years phone hacking case comes to the Old Bailey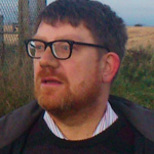 Beginning his working life in the aviation industry and trained by the BBC, Tony Gosling is a British land rights activist, historian & investigative radio journalist. Over the last 20 years he has been exposing the secret power of the Bank for International Settlements (BIS) and élite Bilderberg Conferences where the dark forces of corporations, media, banks and royalty conspire to accumulate wealth and power through extortion and war. Tony has spent much of his life too advocating solutions which heal the wealth divide, such as free housing for all and a press which reflects the concerns of ordinary people rather than attempting to lead opinion, sensationalise or dumb-down. Tony tweets at @TonyGosling. Tune in to his Friday politics show at BCfm.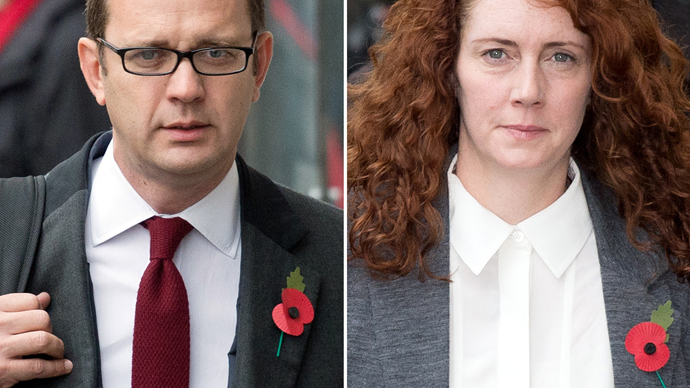 The trial of former Murdoch news editors, Rebekah Brooks and Andy Coulson, is no ordinary court case. No amount of perfume can mask the noxious stench behind their Australian boss' thirty year long asphyxiation of the British media.
At last the London courts and press are breathing the rare oxygen of phone hacking justice and this trial at London's Old Bailey should do a great deal to clear the air. It may even steel the nerves of crown prosecutors, clearing the ground too for future prosecutions of other communication thieves. Next in line could be the faceless mandarins who signed off illegal warrantless mass data trawls at the British government's Signals Intelligence center, GCHQ?

This trial is too close for comfort for the Prime Minister and may explode in his face. Brooks, accused of destroying crucial evidence, mixes with David Cameron in Oxfordshire's elite 'Chipping Norton set'. Her lover, Coulson, was Cameron's press secretary: Right hand man turned perjurer.

Forced to resign over phone hacking then lying on oath in a Scottish court, Coulson helped send the now exonerated, politically dangerous Tommy Sheridan to jail, mortally wounding his Scottish Socialist Party.

Editors Brooks and Coulson held the editorial purse strings at the now moribund News of the World, while nearly thirty of Murdoch's journalists got private investigator, Glenn Mulcaire, to hack a total of nearly six thousand victims' phones. These included dead victims, and families of the 7/7 London bombings, murdered teenager, Milly Dowler, as well as journalists from other newspapers. Hacking the competition too!
Former Prime Minister, Gordon Brown, had his personal medical details stolen, which were used in the tabloid to ridicule him. Behaving like a ruthless Stasi-like intelligence service, records stolen in this manner didn't just appear in the paper. They could be held back until just before an election and used politically to threaten and intimidate politicians, or simply bamboozle voters.
Hardly surprising then that eyebrows have been raised at Brookes and Coulson's 'not guilty' pleas this week. Perhaps lawyers decided that by focusing the flak on these two 'human shields' their feudal masters and patrons, Rupert and James Murdoch, might keep their faces out of the frame?
London's establishment lawyers, with a ten year wait for the inquest into the unlawful killing of Princess Diana and a five year wait for the jury-less inquest into the 7/7 London bombings, seem to take years to get a straight enough story to bring the case to court. This time, eight excruciating years!
A royal phone hacking exposé brought evidence of systematic newsroom crime at the News of the World into police hands in late 2005. But News International paid colossal out-of-court compensation, and investigations into almost six thousand other victims were inexplicably closed.

That mystery, too, has now been solved. Criminals at Scotland Yard and the Ministry of Defense were on the News International slush-fund payroll.
Bad penny Murdoch comes to Fleet Street
Murdoch bought the News of the World in 1969 and it didn't take long for the paper's most independent-minded investigative journalist, Simon Regan, to up sticks. 'Think like Rupert if you want to keep your job', a stultifying fear spread around the newsrooms, and down into the print rooms. Twelve years later, when he took over the Sunday Times, his hatchet man Andrew Neal inexcusably sacked Don McCullin, one of the bravest, if not the greatest photojournalists that Britain has ever produced.

As a seeming reward for the blood-letting at the Sunday Times, the pig-headed and conceited Neal has gone on to 'anchor' the BBC's 'Daily Politics' show, where he continues to act as establishment gatekeeper, knocking the wind out of Britain's political discourse day after day.
Warnings from Britain's 'golden age'
In 1994 one of Britain's greatest television playwrights, Dennis Potter, dying of terminal cancer, announced during his final TV interview that he had named his cancer 'Rupert'. How prescient. The very name 'Murdoch' now embodies a race to the bottom of dumbed down, vested interest mainstream media. Murdoch programs are nothing more than the filler in between the precious advertisements.

From the 1950s to the 1980s, Britain's ITV networks produced some of the best documentaries and drama in the world, priding themselves in taking on the establishment in a way the BBC wouldn't dare. One of those companies, HTV, had the franchises for Wales and the West of England, producing award winning children's and historical drama as well as some of the most innovative science fiction in the country.
I got a lift with former HTV chairman, Louis Sherwood, before he passed away in 2009, and began to share my concerns about Rupert Murdoch's establishment bias which was appearing on his Sky TV. I had never seen the erudite gentleman explode with such fury before as he yelled, 'Don't mention his name in my car. That man is poison.'
Were he alive today, it would cheer Louis to see Brooks and Coulson being finally hauled across the coals. As a genuine broadcasting philanthropist, he knew exactly what damage their nerve gas was doing to the spinal cord of the nation. 
But he would not have been content until the full force of the law were brought to bear on Rupert Murdoch's kith and kin, until they were found not to be 'fit and proper people' to broadcast under section 3(3) of the Broadcasting Acts 1990 and 1996 - Until the over-mighty, sarin-breathing, kingmaker dynasty was banished forever from our airwaves.

The statements, views and opinions expressed in this column are solely those of the author and do not necessarily represent those of RT.