Fukushima open air fission? Radiation surge can't be blamed just on random leaks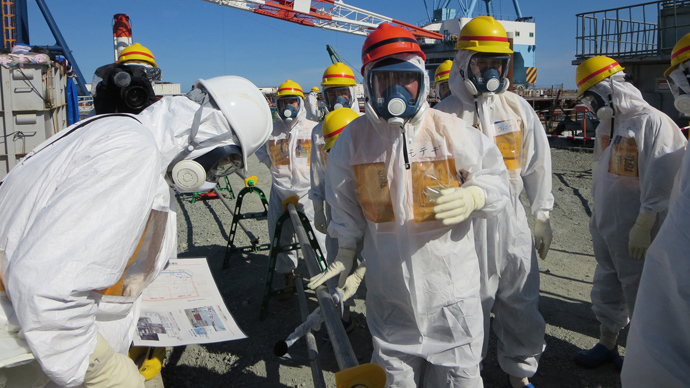 The latest surge in radiation at Fukushima nuclear plant may suggest not only additional water leaks at the site, but could also mean fission is occurring outside the crippled reactor, explains Chris Busby from the European Committee on Radiation Risk.
The increase in radiation reading is too significant to be blamed on random water leaks, believes Busby.
 
RT:Just how serious is the situation now in Japan?

Chris Busby: I think this is an indication that it has actually deteriorated significantly, very suddenly in the last week. What they are not saying and what is the missing piece of evidence here is that radiation suddenly cannot increase unless something happens and that something cannot be leakage from a tank, because gamma radiation goes straight through a tank. The tank has got very thin metal walls. These walls will only attenuate gamma radiation by 5 per cent, even when it is 1 cm thick. 
Several new high radiation readings were detected during the daily inspection on Saturday near the tanks storing the radioactive water, forcing the operator to admit there might be even more leaks at the crippled Fukushima nuclear power plant.




Earlier Japan's Nuclear Regulation Authority raised the rating of the radioactive water leak at the tsunami-hit Fukushima nuclear power plant to Level 3 – a "serious incident" on an international scale of radioactivity.

Although they may think this is a leak from the tank, and there may well be leaks from the tank, this sudden increase of 1.8 Sieverts per hour is an enormously big doze that can probably kill somebody in 2 to 4 hours.

Today there was another leak found at 1.7 Sieverts per hour in more or less the same place. This huge radiation increase, in my mind means something going on outside the tanks, some radioactive fission is occurring, like an open air reactor, if you like, under the ground.

RT:What impact will this have on the clean-up operation and those who are involved in that operation?

CB: First of all it is clearly out of control and secondly no one can go anywhere near it. Nobody can go in to measure where these leaks are or do anything about them, because anybody who is to approach that sort of area would be dead quite quickly. They would be seriously harmed.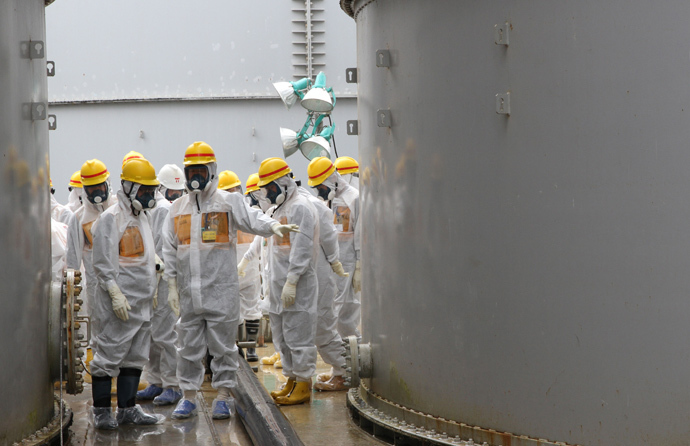 RT:Then presumably, someone who was there earlier, not knowing that the radiation levels were so high, are at risk now?

CB: I think many people are going to die as a result of this just like liquidators died after Chernobyl. They were dying over the next ten years or so.

RT:Why has TEPCO failed to contain the radiation?

CB: I think no one has actually realized how bad this is, because the international nuclear industries have tried to play it down so much, that they sort of came to the idea that somehow it can be controlled. Whereas all along, it could never be controlled.

I've seen a photograph taken from the air recently, in which the water in the Pacific Ocean is actually appearing to boil. Well, it is not boiling. You can see that it's hot. Steam is coming off the surface. There is a fog condensing over the area of the ocean close to the reactors, which means that hot water is getting into the Pacific that means something is fissioning very close to the Pacific and it is not inside the reactors, it must be outside the reactors in my opinion.

RT:Surely international nuclear industry should have come to TEPCO's help before this?

CB: Yes. They should have done that. This is not a local affair. This is an international affair. I could not say why it has not. I think they are all hoping that nothing will happen, hoping that this will all go away and keeping their fingers crossed. But from the beginning it was quite clear that it was very serious and that there is no way in which this going not going to go very bad.

And now it seem to have suddenly got very bad. If that photograph I've seen is true, they should start evacuating people up to a 100 kilometer zone.

RT:So not only those that live in the vicinity but also those that live within 100 km could be at risk?

CB: I say that this might be a faked dubbed photograph, but if that is real and these levels of 1.8 Sieverts per hour are real, than something is very serious has happened and I think people should start to get away.

RT:Since the radiation is leaking into the ocean, will it not have a major ecological impact elsewhere?

CB: Of course. What happens there is that it moves all the radioactivity up and down the coast right down to Tokyo. I've seen a statement made by Tokyo's mayor saying this will not affect the application of Tokyo to be considered for the Olympic Games. I actually thought they ought to consider evacuating Tokyo. It is very, very serious.

The statements, views and opinions expressed in this column are solely those of the author and do not necessarily represent those of RT.
You can share this story on social media: